Podcast: Play in new window | Download (Duration: 42:25 — 39.0MB)
Subscribe: Apple Podcasts | RSS | More
Everything you want in life is on the other side of fear.  To be able to accomplish those goals you will have to face those things that scare you or stand down and not accomplish them.  The choice is yours, every single time.
You may have also heard the saying that fear can either represent:
Forget Everything And Run
or
Face Everything And Rise
I understand fear, and the chance that I may not succeed. The fear of failure, or looking "stupid" trying and failing, is real. I hate NOT being able to do something that I set out to do and have really had to dig down deep to push through the fear of failing at it. Losing my leg has definitely made me face that fear every single day. It became a thrive and survive situation for me with no way out except through.  I have learned a lot about me, learned to control my emotions as I face fearful situations, and grace when I don't succeed on the first try. I pick myself back up and try again, and again, and again, until I get it done, and done right.
The reality is that every day we all face something that can stop us in our tracks or push us to rise and conquer, and each day we have a choice on how we will handle the situations that confront us.  What will you choose? How will you handle the fears that challenge you?
I know that each of our stories is different, but fear is fear. What I have realized from overcoming amputation is that when I choose to push through the challenges and fears in my life, I am richly rewarded with success, which then helps me drive through the next situation.
This can be your story too! Don't let fear take hold of you and dictate your life. Grab the bull by the horns and take charge. You only get this one life, you deserve to find happiness, live well, and be healthy.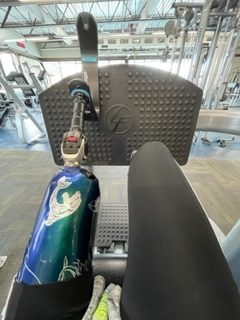 I am still learning to function in my running blade. It isn't easy and I have a lot of fear associated with it, as I often trip and fall hard. The past few days I have worn it into the gym and gotten on the treadmill and worked out in it. I have been pushing past the fear that people are watching and if I fall and get hurt, I would be mortified, and yet I continue to wear it and work through it, at my own pace. My stress levels are a bit higher than if I went into the gym with my normal leg, but I wouldn't learn to rise from this fear and overcome it.  The only way to winning this war is straight through. I must have patience and grace with myself as I learn to function with this leg, so I will continue on this path until I don't feel this way anymore.

Now it's your turn:
Start now. What are you most fearful of right now in your life? Start small, if you must, fear is fear. Your goal this week is to face your fear head on and push through. You may get burned, you may stumble and fall-metaphorically or literally like in my case, but work at it. Each day spend time facing it, dealing with it, instead of pushing it aside for "another day". This is the day to rise up and feel great about yourself. By completing something difficult or challenging yourself to something you fear you grow. You build character and come out a little stronger, and a little wiser, ready to take on the next roadblock that appears in your life.
Best of luck at kicking fear aside and rise from the situation this week. Attack and don't give up. Have grace with yourself if you fall down, pick yourself up by the bootstraps, and go at it again, until you find success. You can do it, I have faith in you!
And as always:
Be Healthy,
Be Happy,
Be YOU!!!
Much love,
Angie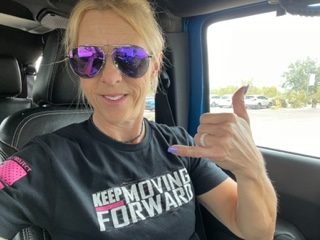 The look of facing fear and coming out on top! 💪