Podcast: Play in new window | Download (Duration: 21:38 — 22.6MB)
Subscribe: Apple Podcasts | RSS | More
Are you seeing amputees doing all the things you could only dream of doing? Thinking you are so far behind that you could never get there? Or see them doing amazing things, "pain-free"?
Well, in the spirit of complete transparency, and shedding light of the realities of being an amputee, I have had a hard couple of days.
Yep! Even 4 1/2 years out. Do they happen often, no, but phantom pains, poor fitting socket days and just plain "off" days can come out of nowhere and hit me like a freight train!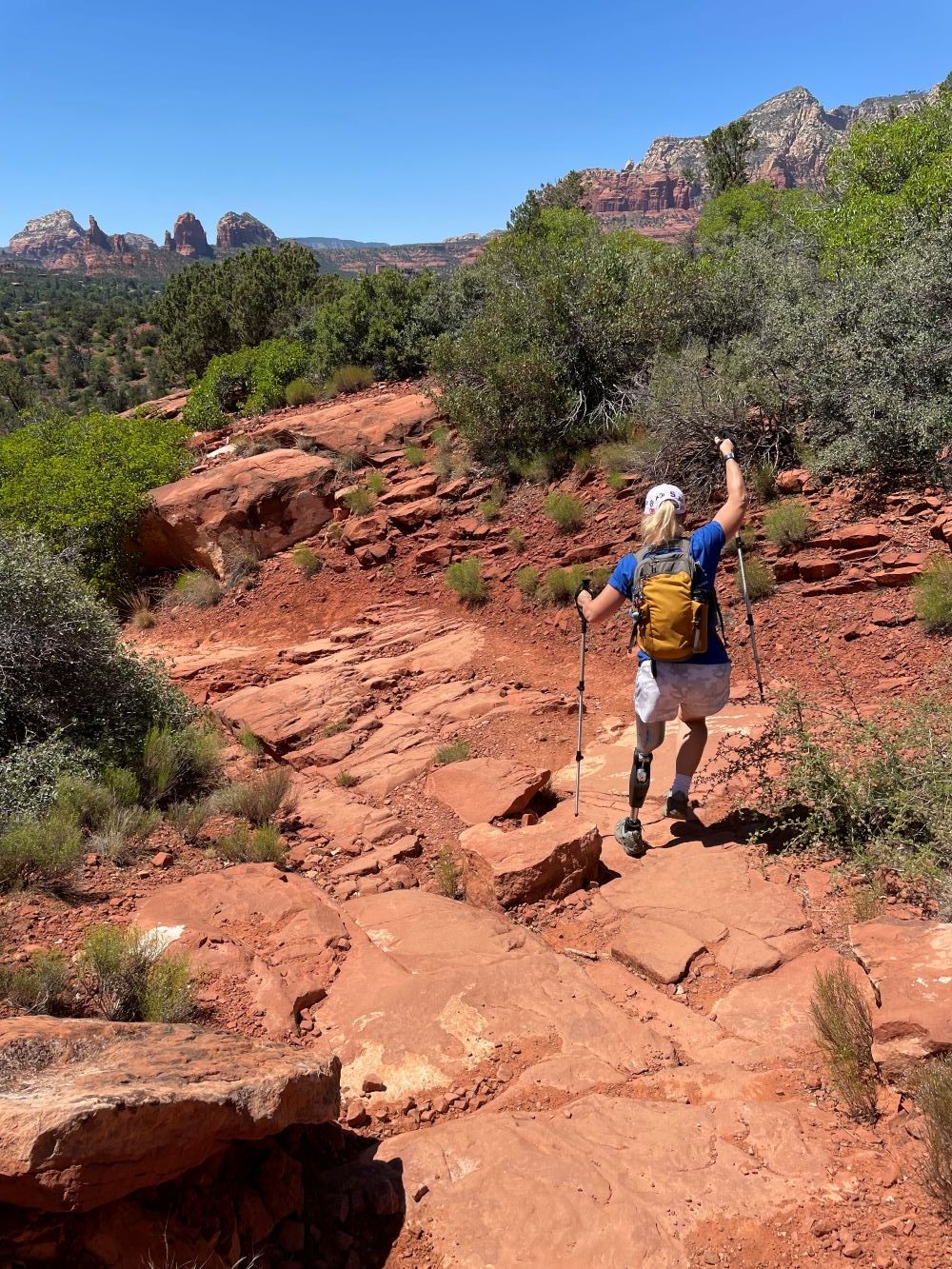 This weekend was no exception.
I has been out hiking, doing what I love, and even though it was a tough hike I got through unscathed…. However, the next day, I'm sure my muscles were so taxed that my phantom pain came back in sharp stabbing droves, meant to take me out in mere moments!
The reality check is, we all have our journey, whether you're an amputee or not. You cannot compare yourself to anyone else, because there is no one like, who went through what you went through, and can handle it like you. Our pain tolerances are different, our illness that led to our condition are difference, our age, activity level and our gender are all different.
Most people think that going through amputation is the hard part, but in reality, it's the first 1-2 years after, in which you have to get fitted for a socket, place something heavy and cumbersome on your body, and relearn to walk all over again. The fit takes patience and time to adjust, you fall, you get rashes, you break down and get frustrated.  And when you finally get everything to feel "good" you have atrophy and drop weight and your limb changes and you start the whole process ALL OVER AGAIN!!! Sometimes even just 1-2 months after you finally get a good fit!
So whether you are struggling on the path you are on in life, or finding it debilitating to keep moving forward as an amputee, know that this is all part of the journey. You have to experience the ups and downs to learn and become stronger, physically, mentally and emotionally. I can tell you all that I've gone through but to truly learn from it and appreciate it, you must go through it yourself. And your journey won't look like mine or anyone else's, your journey is YOUR journey. Embrace it and enjoy it for all its worth. You'll be amazed at the person you'll become as you wrestle with the challenges you'll go through.

This week, listen to yourself. Know when you need a break and take it. Spend time reflecting on what's got you blocked or bound up and know that this isn't the end, just a hiccup.
Take a deep breathe, and rise up again and give another crack at it.
Baby steps, little by little, keep you moving forward.
Don't give up and believe in yourself!!
And as always,
Be Healthy,
Be Happy,
Be YOU!!!
Much love,
Angie