Podcast: Play in new window | Download (Duration: 25:03 — 26.7MB)
Subscribe: Apple Podcasts | RSS | More
Learning To Listen To Your Gut
When you are going through something have you noticed how many people have advice?
The questions of: Have you tried this? Did you see Dr. So and So? This is the only prosthetic that works…. etc, etc.
I have had the opportunity to see many doctors throughout my injury, been to an amazing plastic surgeon, and have great prosthetists. I tell new amputees all about them but I try to stay conscious of pushy. My personal experience is MY personal experience, and I am always hopeful that it can be somebody else's experience too, but it may not be. This just recently happened and it was heartbreaking to see. Without going into detail, because that's what this podcast talks about, I had a couple of friends, amputees, use one of my doctors to help with revisions and their experiences were not like my positive experience.
I also watch social media posts and peruse the comments and am taken aback by the many people who believe their way is the only way, their doctor is the best doctor, their prosthetic brand is the best out there. Do you see where I'm going with this?
"Always", "Never", "The Best", and "The Worst", are red flags in my book, and should be avoided at all costs.
So why do we fall victim to adhering to these types of comments and following this type of advice? When we are in pain, scared, anxious, and in doubt we want ANYTHING that will get us out of that situation, and the faster the better. When we ask a large group of people (social media groups) how they handle this situation, or ask for help when we are experiencing phantom pain so extreme we are beside ourselves, we will take any advice if the person comes across unwavering and confident in their advice.
The problem? We are all DIFFERENT!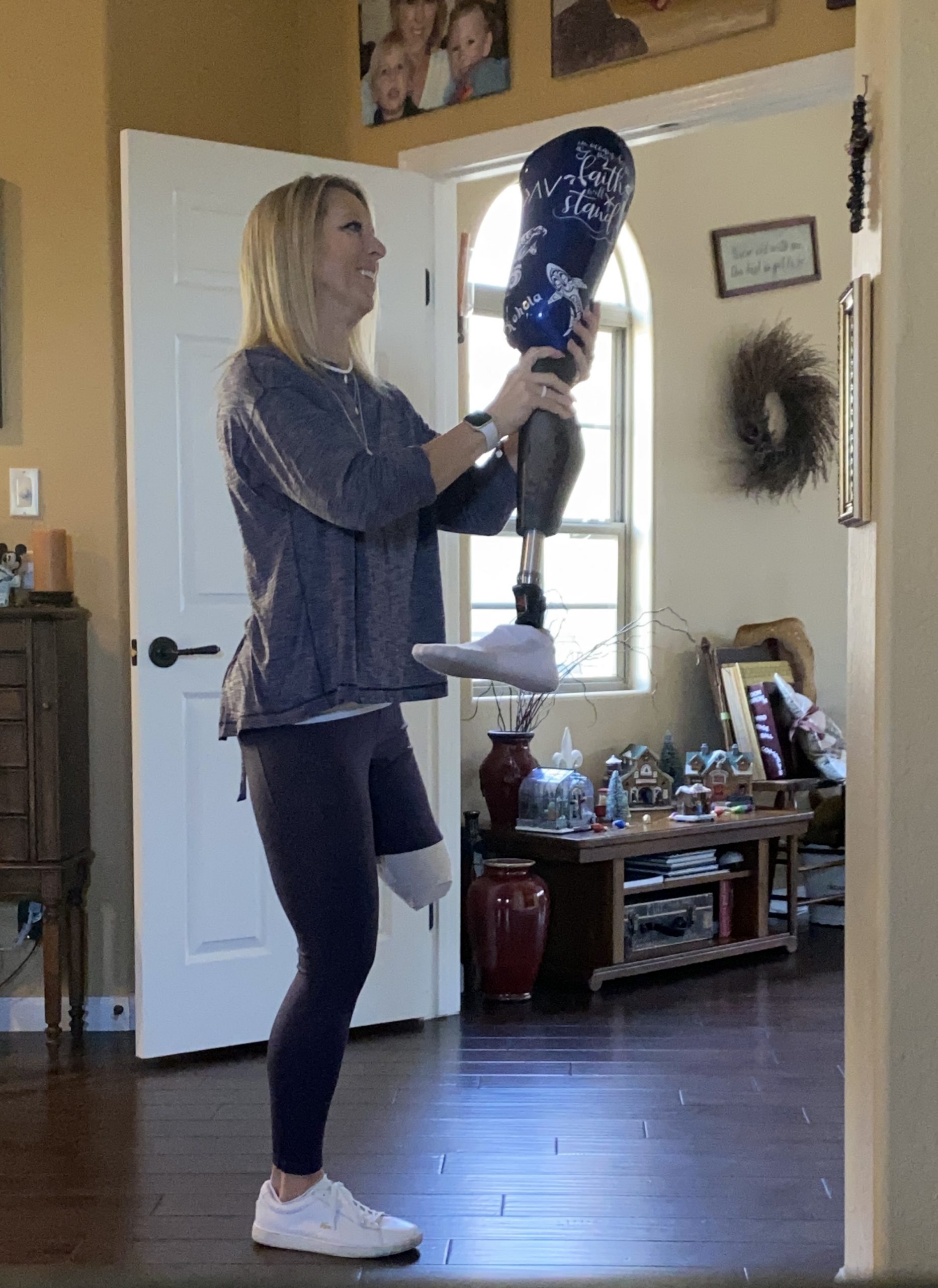 The love I have for my prosthetic. I am empowered to live my best life, with my new lease on life.
We have different reasons for our injury, different backgrounds, different personalities, different pain threshold levels, and completely different reasons for what we are feeling.
Just last week I experienced phantom pain, like my foot had been set on fire. It was non-stop, day and night. I haven't had that in a long time. This time it was caused by my situation, not my fit. I was very upset and stressed about something (listen to last week's podcast), and this was how my body dealt with it. However, if I had told any Facebook groups that I was dealing with this major burning, without giving the situational background, like so many people do, I would've been told that pain meds work, or gummies were the way to go, or try sleeping it off, etc. But what I needed to do was get outdoors for fresh air and allow myself to grieve. The fresh air and exercise helped me cope with my issue, which allowed my phantom pains to subside.
Fresh air and exercise! Just what I needed.
I knew what I needed. I trusted my gut on why I was experiencing what was happening to me.
We sometimes forget, in the midst of hard times, that if we just listen to our bodies, that we know what's best and what is right for us.
When we schedule an appointment with a doctor but feel unsettled when in the office, we need to listen.
When we struggle with pain, we must quiet ourselves enough to listen to what our body is telling us.
Yes, it's good to get some opinions, but take all advice with a grain of salt. We know ourselves better than a doctor with a PhD. We understand what we've been going through more than a random keyboard warrior who loves to put their two cents into everyone's problems.
Aren't we worth that?
Don't we deserve the best care possible?

It's time to advocate for yourself.
When you have an appointment, make sure you take questions you want answered so you don't forget them if your train of thought gets derailed (mine did as soon as one doctor brought up amputation for the first time-I was stunned and my mind went blank. Luckily my husband was with me).
Bring someone you trust with you to the appointment (see comment above).
Listen to what your body is telling you. You know YOU best! DOn't doubt yourself.
Remember, advice is great for optionality, but there is no "One size fits all" answer to your situation.
You are a warrior! Don't you forget that! Fight for yourself! Fight for the life you've envisioned for yourself. You deserve the BEST!!!
I'm praying for you. Rise up and be heard, Warrior!
Until next week, as always,
Be Healthy,
Be Happy,
Be YOU!!!
Much love,