Podcast: Play in new window | Download (Duration: 38:10 — 40.4MB)
Subscribe: Apple Podcasts | RSS | More
Creating Positive Momentum Through Challenges
This week let's challenge ourselves!
Let's face the mountain head on and not veer out of fear.
It's time to unleash the warrior within you, are you ready??
Well it doesn't matter, now is the time! If you wait until you are "ready" then the time will never come.
SO how did I start my amputee journey, you ask? I was ready! I was nervous, of course, but when I came to grips with it I was ready to soar. I began to dream and wonder what I could accomplish, what hurdles I would overcome, what new things I would learn. To say that I was excited about the possibilities, would be an understatement.
I began by wearing my leg out of the prosthetist office and using it all day every day for a week…WITHOUT PT! Needless to say, I was so bruised on my femur bone!
I mean, I was walking, and so proud of myself, but I needed help tweaking my form and gait.
After I took some PT I began a new journey with new dreams. I was going to reinvent myself, whatever it took!
I had about 12 goals set for myself, even before my amputation, about what I would accomplish as an amputee.
Obviously I wanted to walk as naturally as possible, and as soon as possible, but there is no shortcut or magic potion to make that happen. It takes grit, determination and consistency.  But how do you maintain consistency, especially with something that is scary, uncertain, and hard to do?
What I did was register for virtual races! Not only did I have set miles but I also had the metaphorical carrot dangling in front of me…the cool looking medals!!
My very 1st race as an amputee! This started it all and how I got use to my prosthetic leg.
For me, that's all it took! I registered for my first 150 mile race in May, a month after getting my prosthetic leg. I made a promise to myself that all of my steps in my leg would count toward my miles, then I introduced myself to the large Facebook group and told them of my goals. Not only did writing it down for all to see make me accountable for my goal, it also gave me a HUGE cheering squad with this new group of friends!
And this is where it all began! I attribute my success of learning to walk again to my virtual races.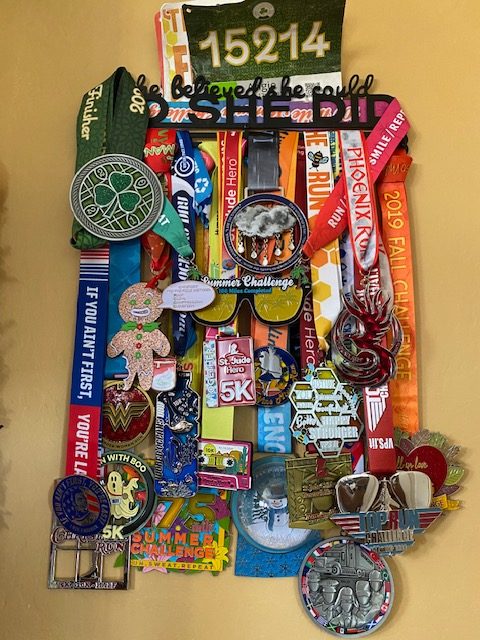 These were the ones I did the first 1 1/2 after becoming an amputee! They all have special meaning,
depending on what I was trying to accomplish, how I felt or what I was going through.

It's your turn now, and I'm going to help you and be there by your side as we do this together!
Let's crush a goal before this year ends.
No better time than the present to start, and the best time of year to make time for yourself.
The link below is to register for a 100 mile virtual race.
I have already registered and I want you on my team!
I will create a private Facebook group too, just for those who join this race with me.
Can't run? No problem-WALK!
Can't walk? Bike, recumbent, stationary or  traditional.
Can't do those things? SWIM, use a hand bike, exercise with stretch bands, dumbbells or body weight!
The sky's the limit on how you go about logging your miles.
3 miles of biking= 1 mile of running/walking
exercising moderately 30 min=1 mile of running/walking
etc, etc, etc
You see where I'm coming from? We can all do something to help us feel better and get on track. So no matter where you are, don't think for one second that you can't do something in some way, shape, or form!
It is time to unleash your inner warrior! Fight for the life you want! Start today and let me walk alongside you and your journey! After all, we all need someone who gets us where we are at.
I'm here for you so won't you join me on this virtual race?
Join me and let's "sleigh" this holiday season! No excuses, no surrender!!!
Click HERE to register for the Fierce and On Fire Challenge
Oh, and did I mention that not only are you helping yourself by joining this challenge, you will also be supporting the Erin Regan Animal Sanctuary non profit 40 acre farm. A portion of your registration in this challenge goes to support this cause. This non profit is dedicated to saving the lives of farm and companion animals from abuse, euthanasia, and homelessness.
It's a win-win in my book! Join me today! Click the link above!!
As always,
Be Healthy,
Be Happy,
Be YOU!!!
Much love,