Reframing Your Circumstance
Podcast: Play in new window | Download (Duration: 46:57 — 49.4MB)
Subscribe: Apple Podcasts | RSS | More
Living Life With Gratitude
Life is hard.
You can choose to lay down and have it destroy you or you can reframe your thinking and how you view your circumstance by finding things and people in your life for which you can be grateful.
It's that time of year when we hear people say they are thankful for their life, we see trinkets in our homes that say, "Grateful, thankful, blessed", and Thanksgiving is right around the corner in which tell the people around d us that we are thankful for them in our lives.
Thankfulness is a hot topic in November, but what if you are struggling right now?
What if you are going through a rough patch?
Well, this is the time, more than ever that you need to find those moments, things, and people in your life that make your life special, happy, or filled with joy.
By reframing how we see our circumstance we enable ourselves to be at peace through these hard times. By seeking out the silver linings in our lives we are choosing a path of gratitude and happiness amidst the struggles.
This can be life altering! And the more we practice this way of thrilling and speaking the more often we will see what we are going through as just a moment, or blip, in time. A moment that will pass and nothing more.
Remember, we all have these moments. They are chances to define our character, grow, and reinvent ourselves. Without these hard times we cannot truly appreciate the good that has been in our lives or the good that is to come.
Reframe your thinking. Reframe your circumstance. Practice mindfulness, living in the moment and appreciating the little things in your life that are truly good.
Living a life of gratefulness is a choice, and one that will not only affect your situation, but it'll also effect the people around you.
Choose an attitude of gratitude and spread that to all those around you. You might be surprised on how your outlook on life will be uplifted, and how you bless someone else with your positivity will come back to you ten-fold.

Practicing gratitude and reframing your circumstance:
* Don't be picky, appreciate everything!
*Be mindful, and present
*Keep a gratitude journal
*Remember the hard/bad times, they will help you cherish where you are now.
*Pay it forward
*Reflect. Spend 5, 10, 30 minutes in quiet time, thinking about all you have
*Reframe your bad situation by finding the silver linings, what it could be teaching you, and how you are growing stronger for the future by going through it.
*Celebrate the little things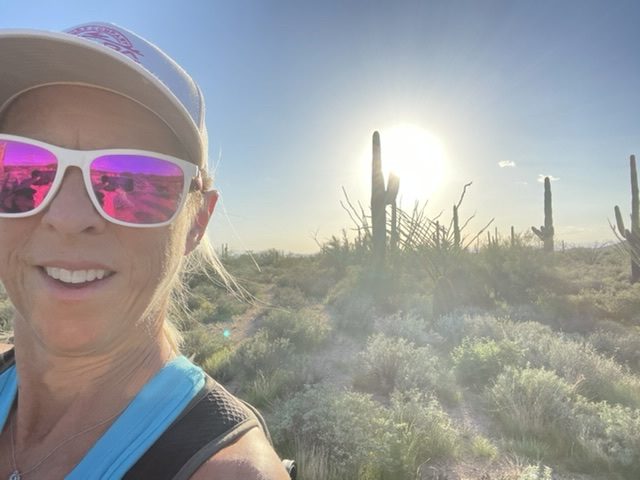 The sunshine

My family

My prosthetic that allows me my freedom
Happy Thanksgiving to you and yours,
And as always,
Be Healthy,
Be Happy,
Be YOU!!!
Much love,
Angie
#thankful #grateful #gratitude #thanksgiving #podcast #bawarrior360 #abovekneeamputee #calltoaction #attitude #reframeyourcircumstance #payitforward