Podcast: Play in new window | Download (Duration: 34:22 — 34.8MB)
Subscribe: Apple Podcasts | RSS | More
"Nana korobi, ya oki"-Japanese proverb
Translation- "Fall down seven times, get up eight."

Are you struggling with getting up and getting active?  Are you afraid to fail? To fall?
It happens. If you decide to try something new then be prepared to fail, and fail again, until you finally succeed.  It takes trials and errors to make the necessary adjustments, in anything you do, to finally see success.  If you didn't fail when trying something new then you didn't learn anything and didn't set your goal high enough.
A goal should be hard to achieve, but not unachievable. It should make you work, and often times fail or be so hard that when you do achieve it you feel amazing about how far you've come.
This past weekend I achieved a goal I set for myself over a year ago.  Part of it, no, most of it, was about my mindset.  I wanted to hike a specific trail that I knew would be demanding on my body, my residual limb, and socket.  When I first attempted it I didn't have the necessary equipment, time, nor was the temperature conducive (100 degrees+).  I really hadn't a clue why we even tried it but I knew how hard the first 1/4 mile was and the hike would be 5 miles round trip.  I needed to prepare physically but also mentally.  I knew I was going for it this past weekend a whole week beforehand so I had time to make necessary adjustments with materials and prepare my mind for the hardship this trek would have on me, but I WAS determined to achieve my goal!
I know this sounds more like a talk on goal setting but it's really about getting out and trying things you might not normally do…and quite frankly, that takes goal setting and a mind shift.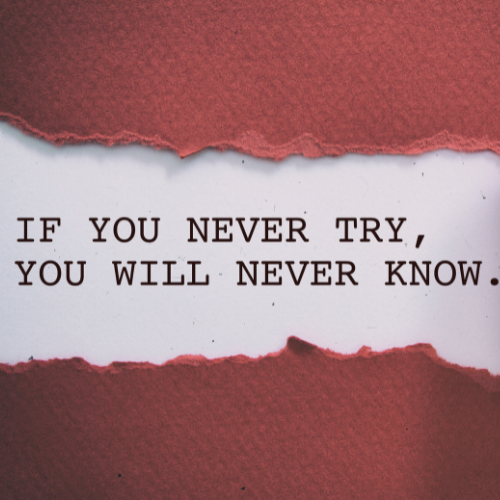 But if failure scares you then be prepared to stay right where you are and become stagnant.  You cannot grow without goals. You cannot achieve goals without hardships and failure. And you cannot see change without trying something new pushing you out of your comfort zone.
So what are you waiting for???


Get out and try something new this week!
If you are struggling with pain, maybe shift your thinking to something different than sitting around and thinking about the pain.  Maybe that means reading a book you've always wanted to read, going for a drive just to get out of the house, calling a friend and having a nice conversation about something totally unrelated to your circumstance or focusing on their life or their issues.  Whatever you do, set a goal, small or large, write it down and then set the necessary steps it takes to achieve it….and then go for it!!!
If you try something new you might find that you have found a new passion, whether it's reading an certain author or helping others with their situations or a specific exercise or activity.  It might put you on the path of a healthier lifestyle and better habits.  Who knows, you might actually, for a moment, forget about your own pain and problems!
Now wouldn't that be something!?
I hope you found something useful here,
And as always:
Be Healthy,
Be Happy,
Be YOU!!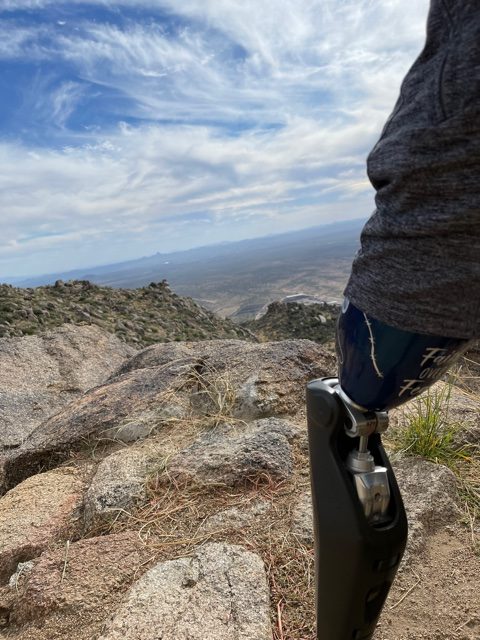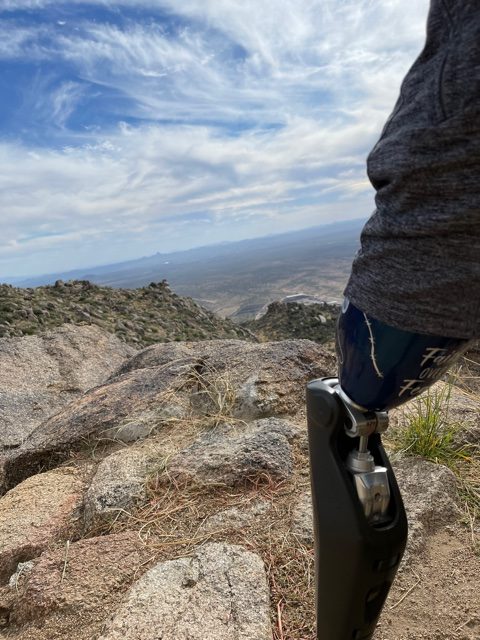 Almost  to the top of the Granite Mountain Hot Shots Memorial hike, Yarnell, AZ.
2.5 miles to observation point. 1,990 feet elevation change. Rocky as all get out!💪🏼
Much  love,
Angie