The Elephant in the Room
The Elephant in the Room
Podcast: Play in new window | Download (Duration: 35:41 — 37.4MB)
Subscribe: Apple Podcasts | RSS | More
The Reality of Phantom Pain
It's real!
It does exist, and it can come out of nowhere and attack you when you least expect it. Phantom pain is an equal opportunity offender with no regard for who it targets.
Phantom sensation is similar but constant. It's not about the excruciating pain it inflicts, like phantom PAIN, as much as it's the never ending, always present tingling, buzzing, and throbbing of the missing body part, (in my case, my lower left leg and foot).
No matter what's going on, how active I am or am not, or even the weather, phantom sensations are always burning in my foot. At first I didn't think I was going to be able to take it but I can tell you two certainities:
After suffering phantom PAIN, I will gladly take the sensations!
I find that these sensations are a gift in that they help me to find my footing as I walk because my foot feels like it's there at all times.
Just a reminder, all journeys are NOT the same. my pain tolerance might be higher than yours or your phantom pain might last longer and be more intense than mine, we are all different and how we handle them is also going to be different.
Some people choose to medicate to help with the pain, others use mirror therapy or a neurotransmitter.
Others may choose to use tap therapy, or heat/cold therapy to lessen the intensity.
I have a neurotransmitter implanted in my back, but it created more pain than it stopped so I have turned mine off, for now.
I also have chosen to stay far away from medication so I know the true feelings of my pain and learn to deal with them naturally as they come. I spent too many years on drugs to help with all the surgeries and couldn't wait to get off of them, permanently!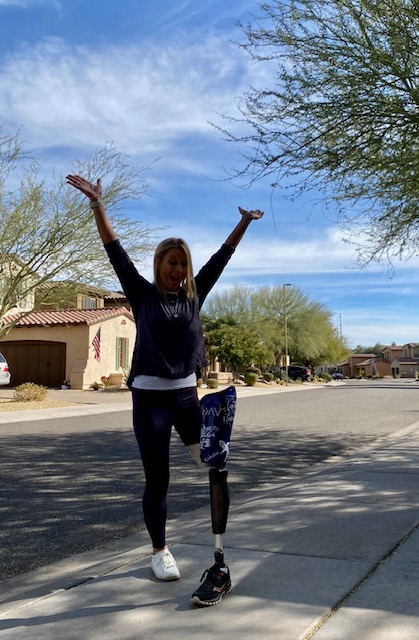 Like I said, everyone is different. what works for me may or may not work for you. Only you can decide how to attack these phantom issues. It's always good to talk with other amputees to see how they are dealing with their pain and what works for them but remember what works for them may not work for you.
I say this so you don't get discouraged if it doesn't work. You will need to keep searching and trying out new ways to handle your pain based on you. And sometimes something will work one time but not the next time it occurs. Talk about frustrating!!
Phantom pain is for real! It's vicious, distracting, and debilitating! It can and will try to consume you, and break you, just remember you are strong! You are a warrior!

This is a tough one.
You will need to get creative and dig down deep!
This is where TRUE warriors are made.
Don't sit and dwell on the pain, it will consume you and make it harder to bounce back from it.
Find somethings that work for you (I use distraction when I am in a bad pain place-walking, driving in my car, playing music, watching a movie, reading, moving some more, getting to the gym, etc) This keeps my mind active, and distracted. Don't sit around thinking about it, it'll only amplify the pain, trust me, I know!
Once you find things you are capable of doing, use these techniques to help you on the rough days. You will find that you will handle the phantom pains better if you have resources ready to be utilized.
And don't forget to communicate with your family, friends, your support system. Even best laid plans get wrecked, and if you are screaming on the inside, more than likely you'll start screaming on the outside and the people who you love the most will be casualties to it. Let them know that you are struggling. Phantom pain is invisible to everyone outside of us, they can't know what we are going through so we must be open and honest, for the sake of relationships.
You've got this and you are NOT alone.
Rise up, Precious Warrior, Rise up! Fight your battles with confidence and with the assurance that this too shall pass.
As always and until next week,
Be Healthy,
Be Happy,
Be YOU!!!
Much love,
Angie