One Size Doesn't Fit All
One Size Doesn't Fit All
Podcast: Play in new window | Download (Duration: 57:51 — 40.0MB)
Subscribe: Apple Podcasts | RSS | More
Not All Sockets (or Prosthetists) Are Made the Same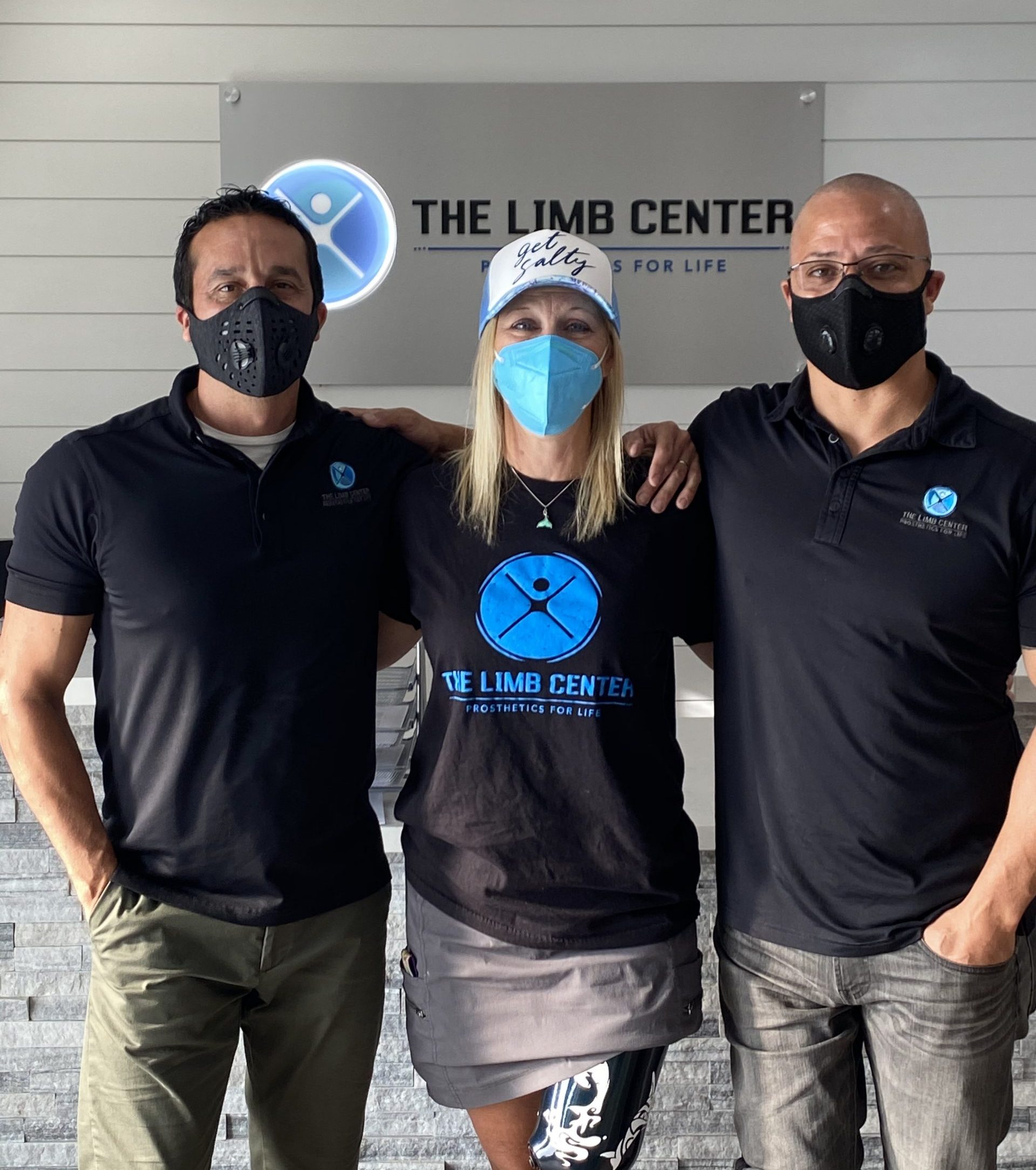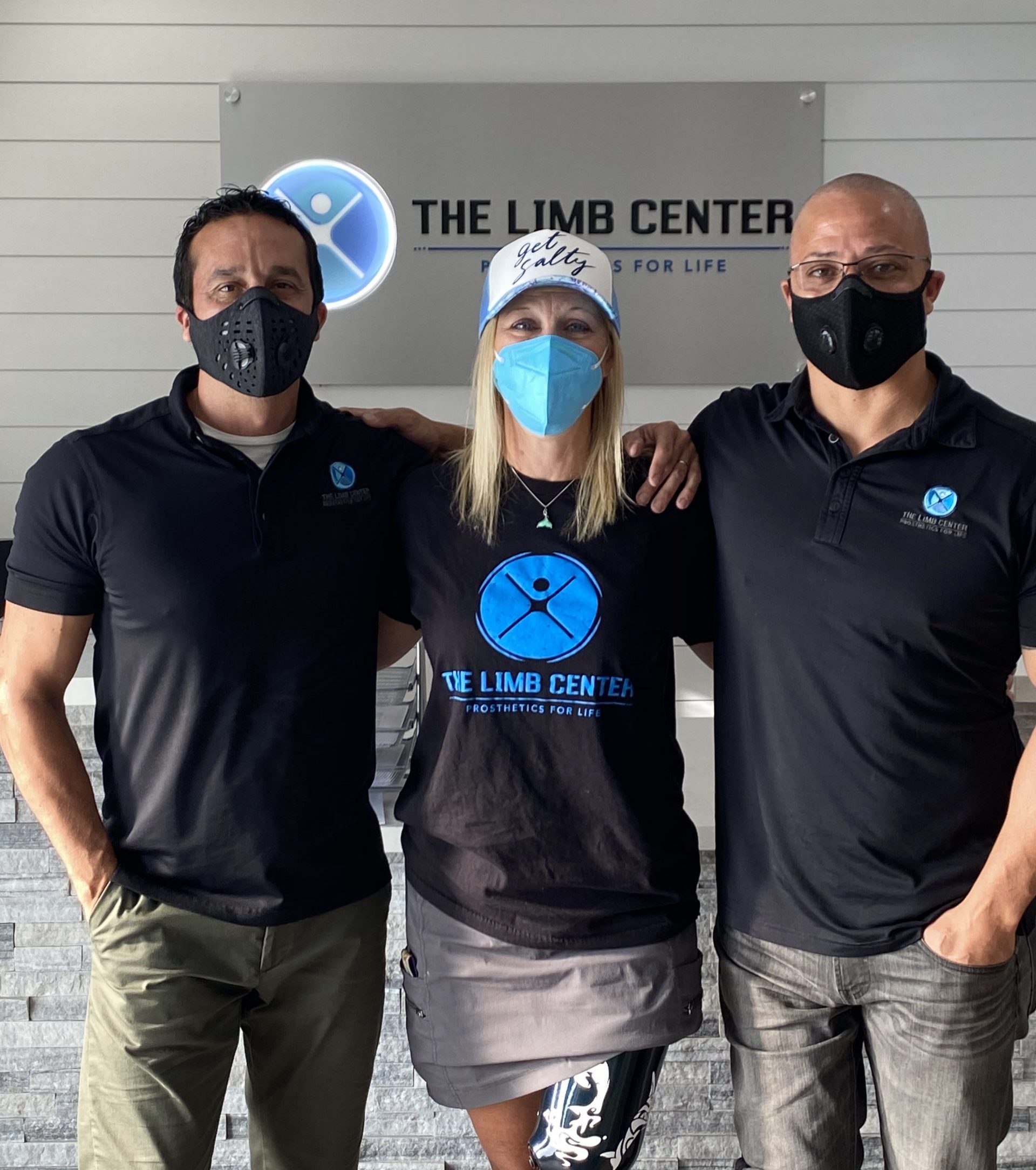 Randy West, myself, and David Banks
I consider myself so fortunate to have been directed to The Limb Center by my doctor, Dr. Judd Cummings, as I was planning for my amputation. And I think I am a good judge of character, so when I went in to meet Randy West and David Banks for the first time, pre-amputation, I knew I was getting the best care out there!

Fitting my running blade and trying it out for the first time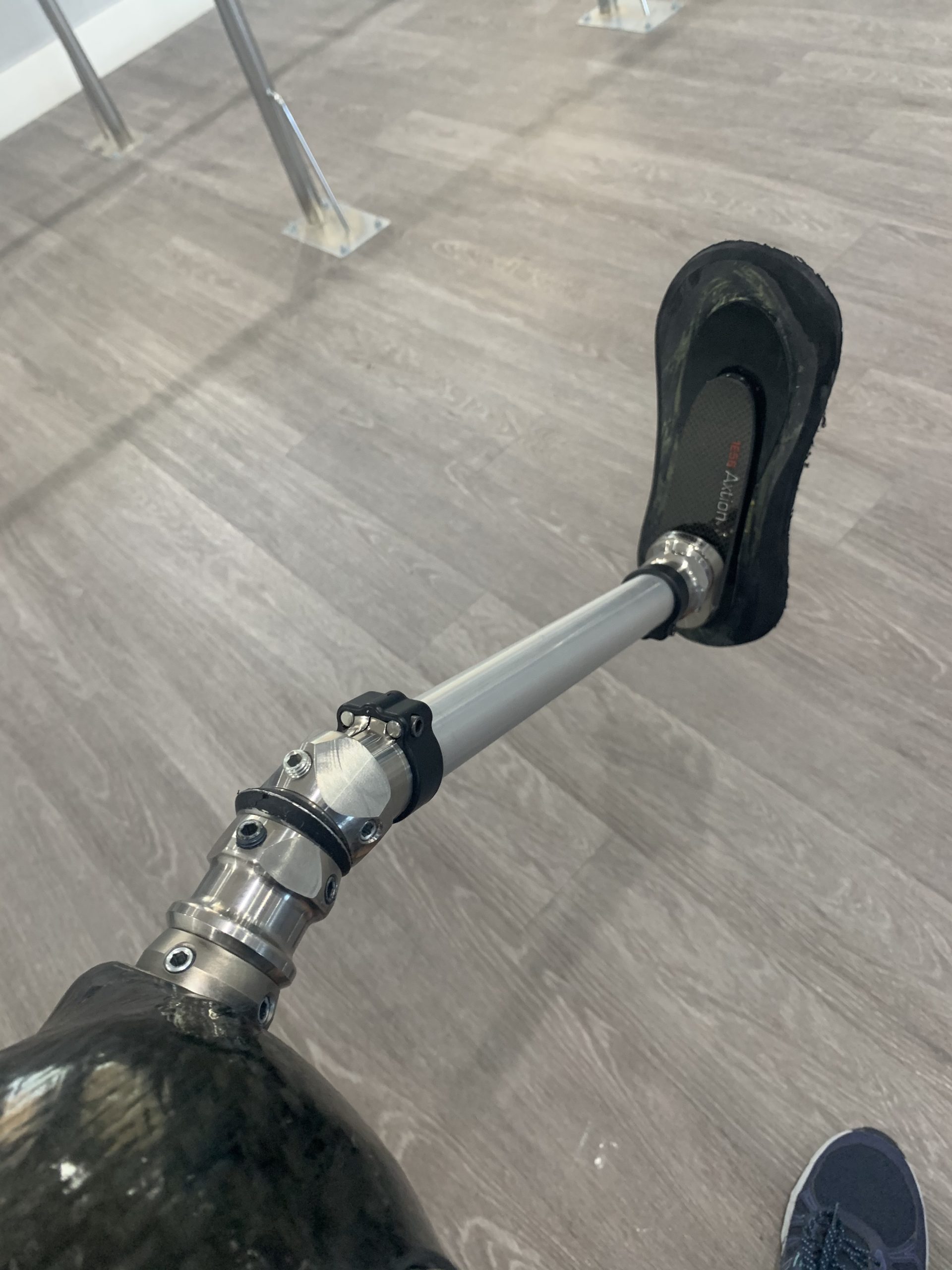 When I told Randy I wanted to surf and I brought him some surf leg plans he graciously went to work and built it for me,
just because he knew it was my dream!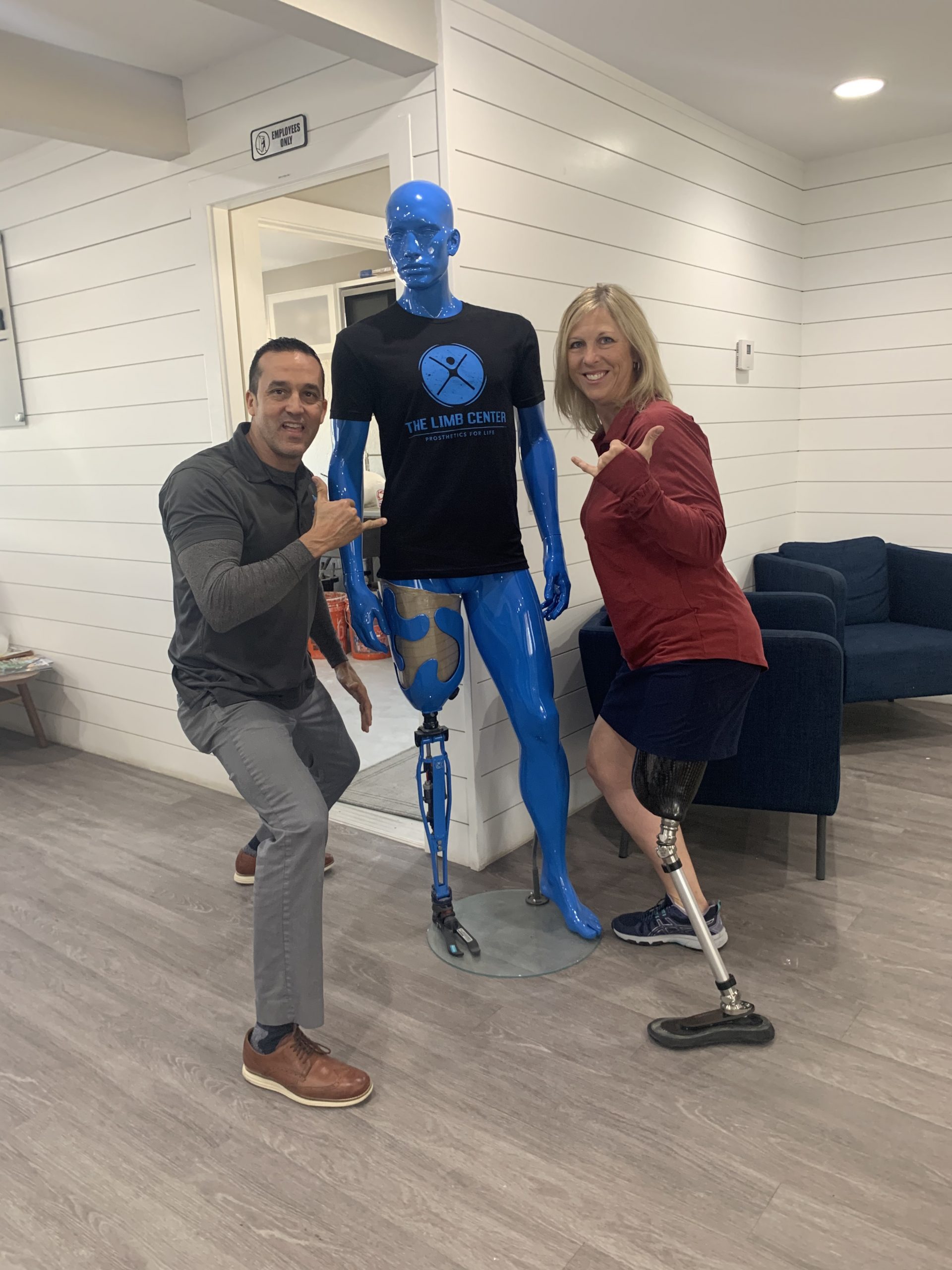 Cheesy, but priceless, photo op with Randy, the Blue guy and my new surf leg!😎
They listened to me. They actually HEARD what I was telling them about my dreams, goals and aspirations….as well as my fears and doubts about going through with this surgery.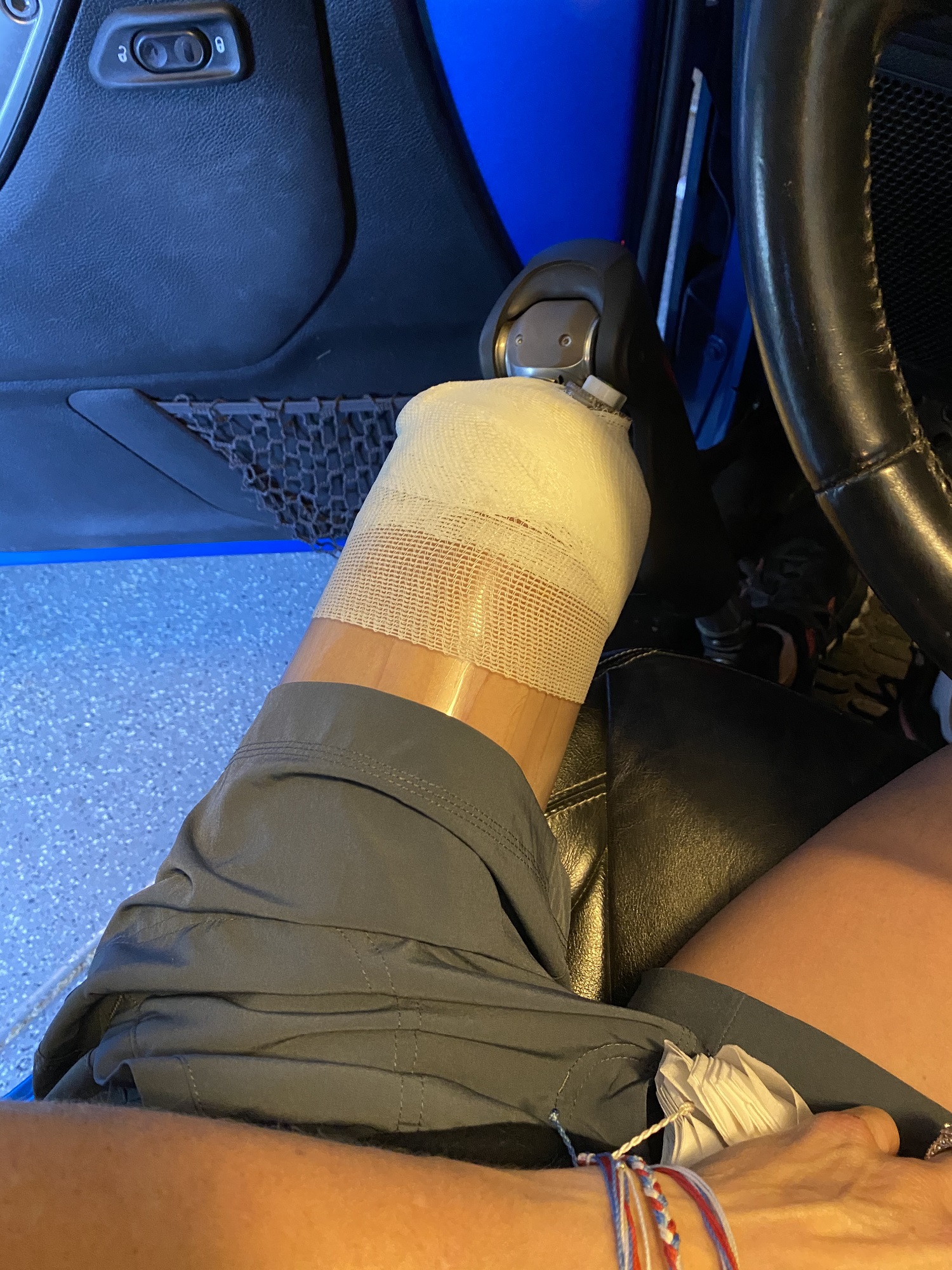 Not often, but in my situation, I was able to take my test socket out for a "test drive"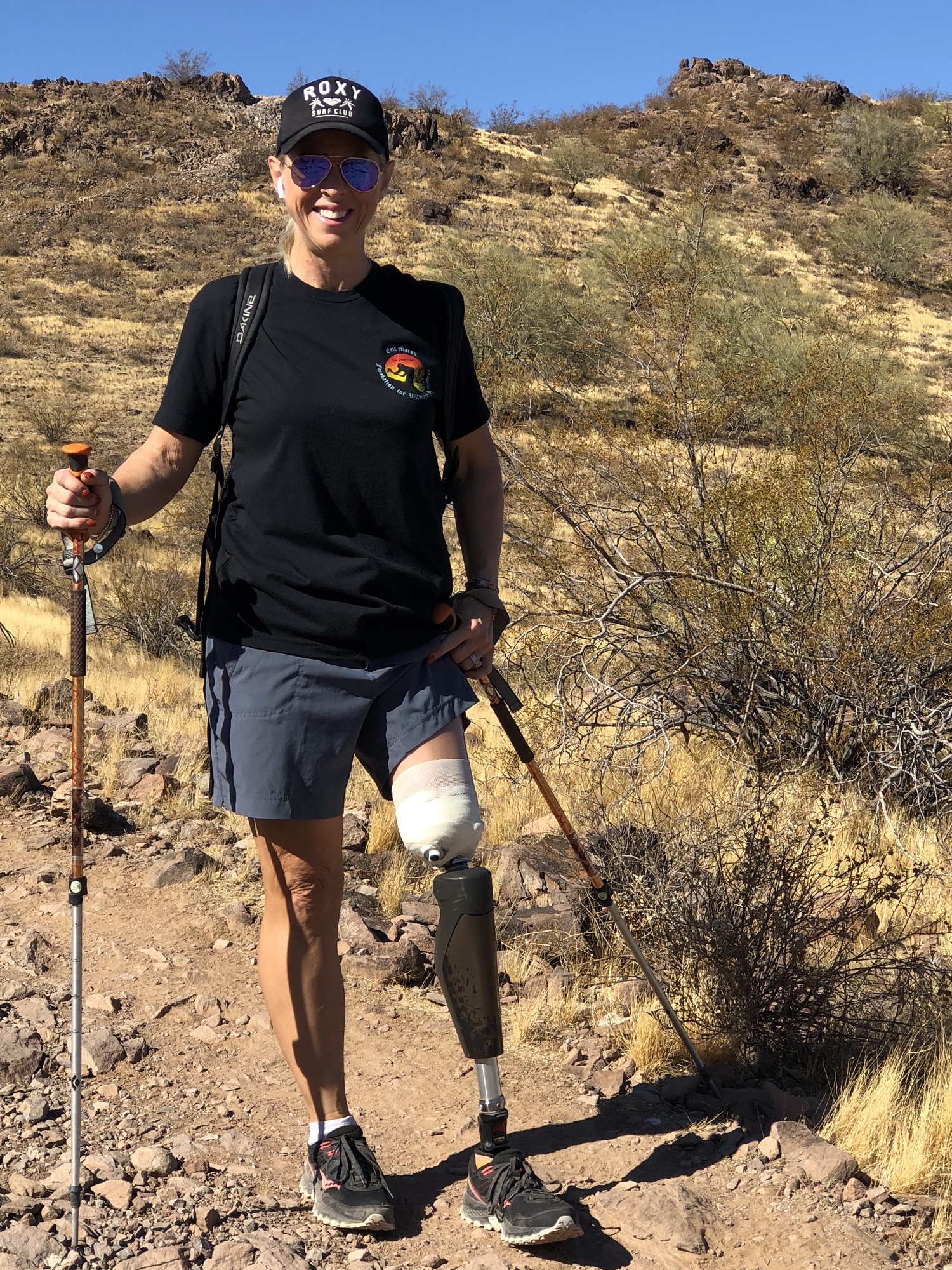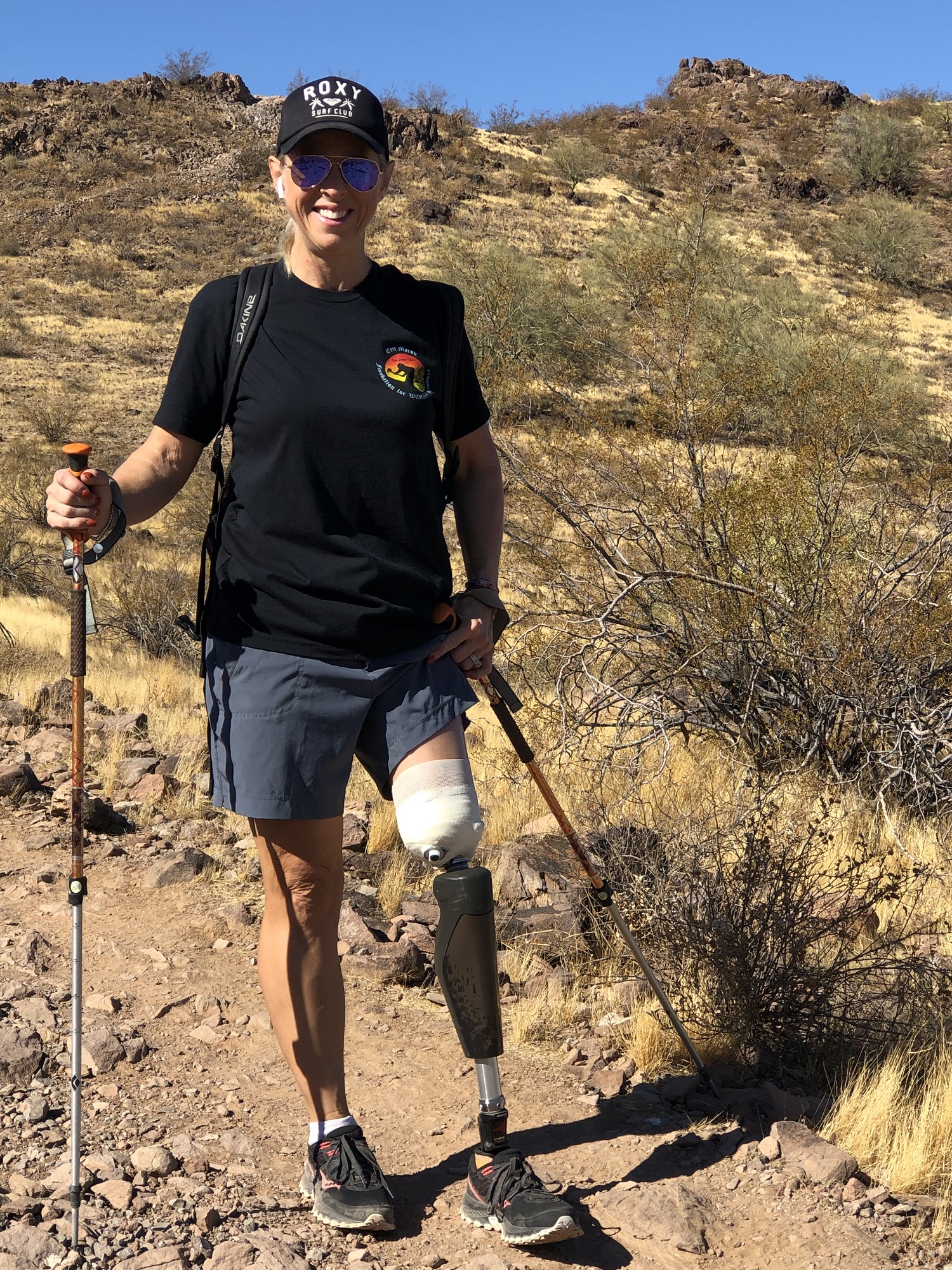 …and test drive it I did!! A 5K hike! It ended up being a great fit.
I had visited another prosthetist's office before I knew of The Limb Center, and I had a pretty good experience there, too. I also met an amazing young lady who was an above knee amputee and a fighter, while I was there. However, three major factors first swayed me to Randy and David, before I really knew them. 1) They took my insurance- this is VERY important and the other office did not! 2) My doctor was very familiar with them and worked with them directly and, quite frankly, I trusted my surgeon and his opinion in this matter, and 3) David was an above knee amputee with 20+ years of experience being one. He could see things and understand an amputee better just by living it.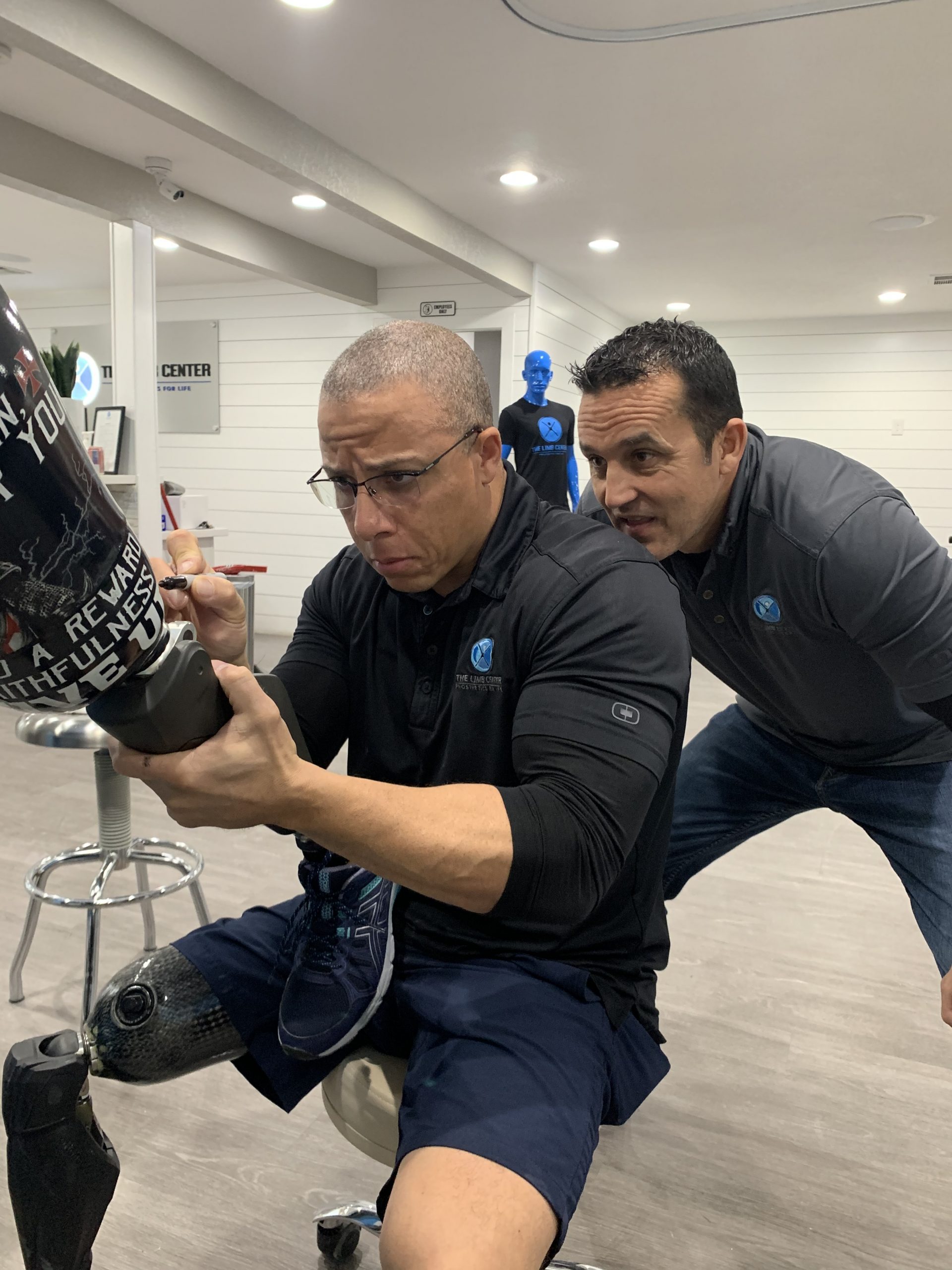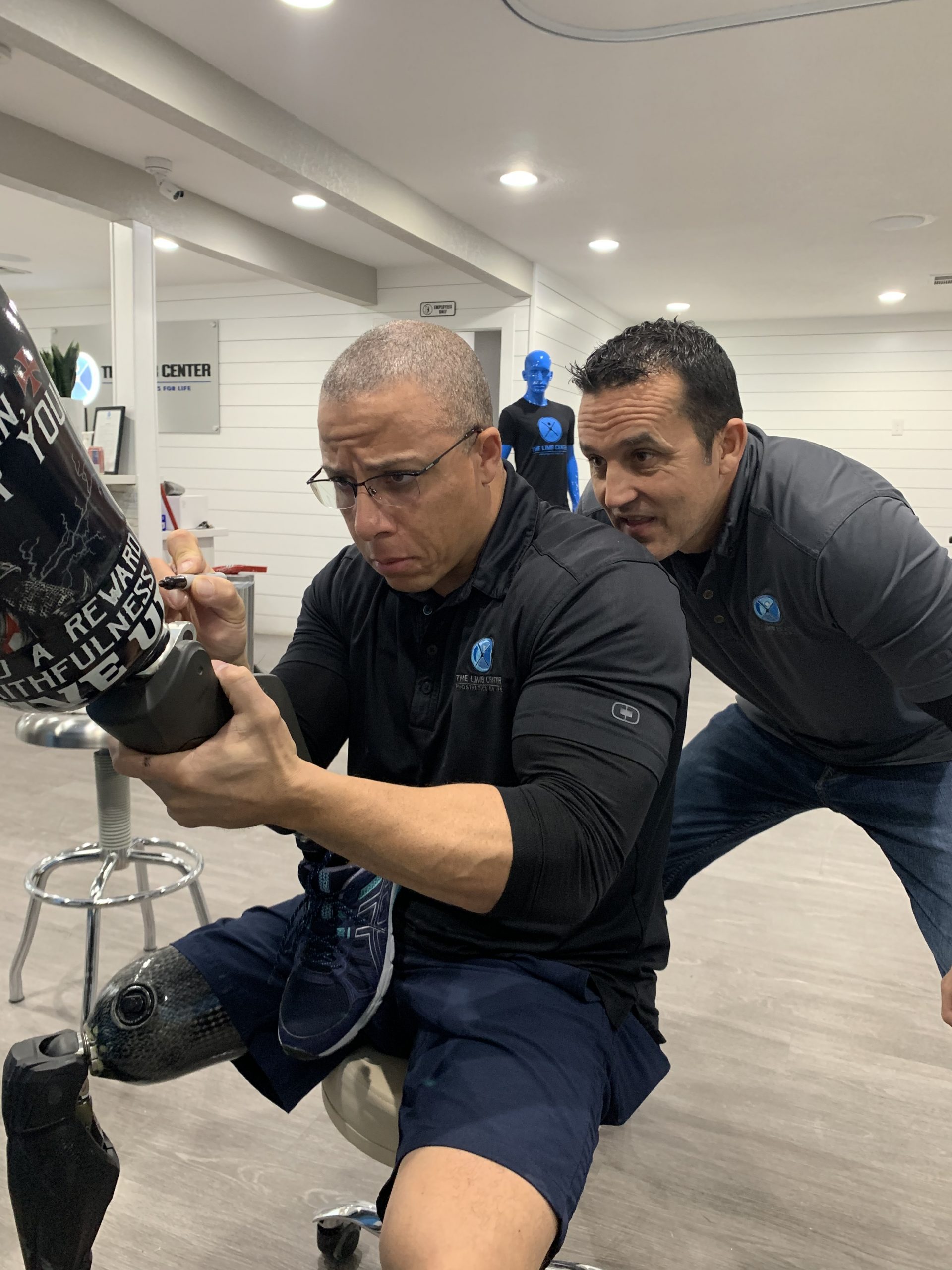 Amazing attention to detail, and always teaching me how to be independent,
by showing me how my prosthetic works and fits.
Then once I got to meet them and talk through my decision to amputate, I knew that we had a connection far greater than me being an office visit here and there. I had their cell phone numbers, could call or text whenever there was a problem, and time and again, they showed me that I mattered to them.
This is the type of relationship you should have and that you deserve with your prosthetist.
Randy and David join me in this podcast as we discuss the right "fit" in your relationship with your prosthetist, insurance and getting the right coverage, steps to getting your first socket, and when to turn around and walk out of that office and find the right relationship you need to be a healthy, happy amputee.  It can happen, but you need to push that for yourself and know when to do it.
Knowledge is power, and I want to arm you with as much knowledge as I can so you can feel confident and ready to advocate for yourself in the medical field, in your doctor appointments and when finding and working with your prosthetist. When we have knowledge, confidence, and opportunity we can access limitless possibilities in our lives.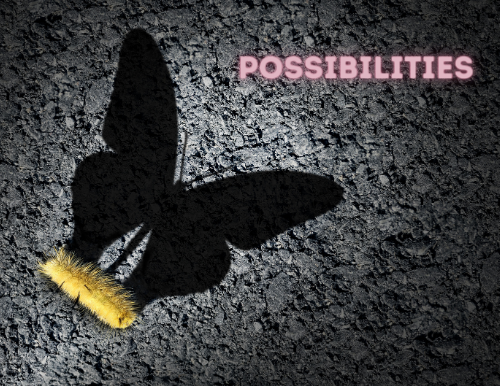 People don't realize that who you see for your prosthetics is so very important-it can make or break your desire and ability to really live your life after amputation, and it's a relationship, like family.  You'll be working with them for years to come so you'll want to make sure you trust and enjoy working with them.
As always, if you have comments or questions, for me or our guests, please feel free to reach out to me. I'd be happy to help.


Time to do the research and leg work- no pun intended. Talk to people, find social media groups that work with amputees, reach out to the Amputee Coalition and your doctor to see who they recommend as a prosthetist for you.
Once you have found a couple, make an appointment to go talk with them. Read their body language and how they talk with you. Do they want to hear your history, problems, dreams and aspirations? If not, move on to the next appointment. You deserve better, and it's out there!
Make sure you address insurance issues and coverage with the prosthetist's office. This is expensive equipment and will need to be upgraded over time- remember, it isn't growing back so we need to make sure we have some help in coverage of costs.
If you have a prosthetist that you are unhappy with, and they don't seem to listen or invest any more than your short office visit then you really need to find the courage and tell them it's not working. If you are seeing someone who,  when you tell them you're hurting or something doesn't feel right, and they tell you that it doesn't get any better and you need to deal with it…that's a red flag! Time to research other places and prosthetists and find someone who can help.
This is YOUR life and YOUR body. You need to push for the best care so you can live it to the fullest. Don't be afraid to stand up for your rights. I'm telling you, there are really good practitioners out there, you just need to look and ask the right questions to find them.
I wish you all well, and please don't hesitate to reach out to me for help.
Until next time:
Be Healthy,
Be Happy,
Be YOU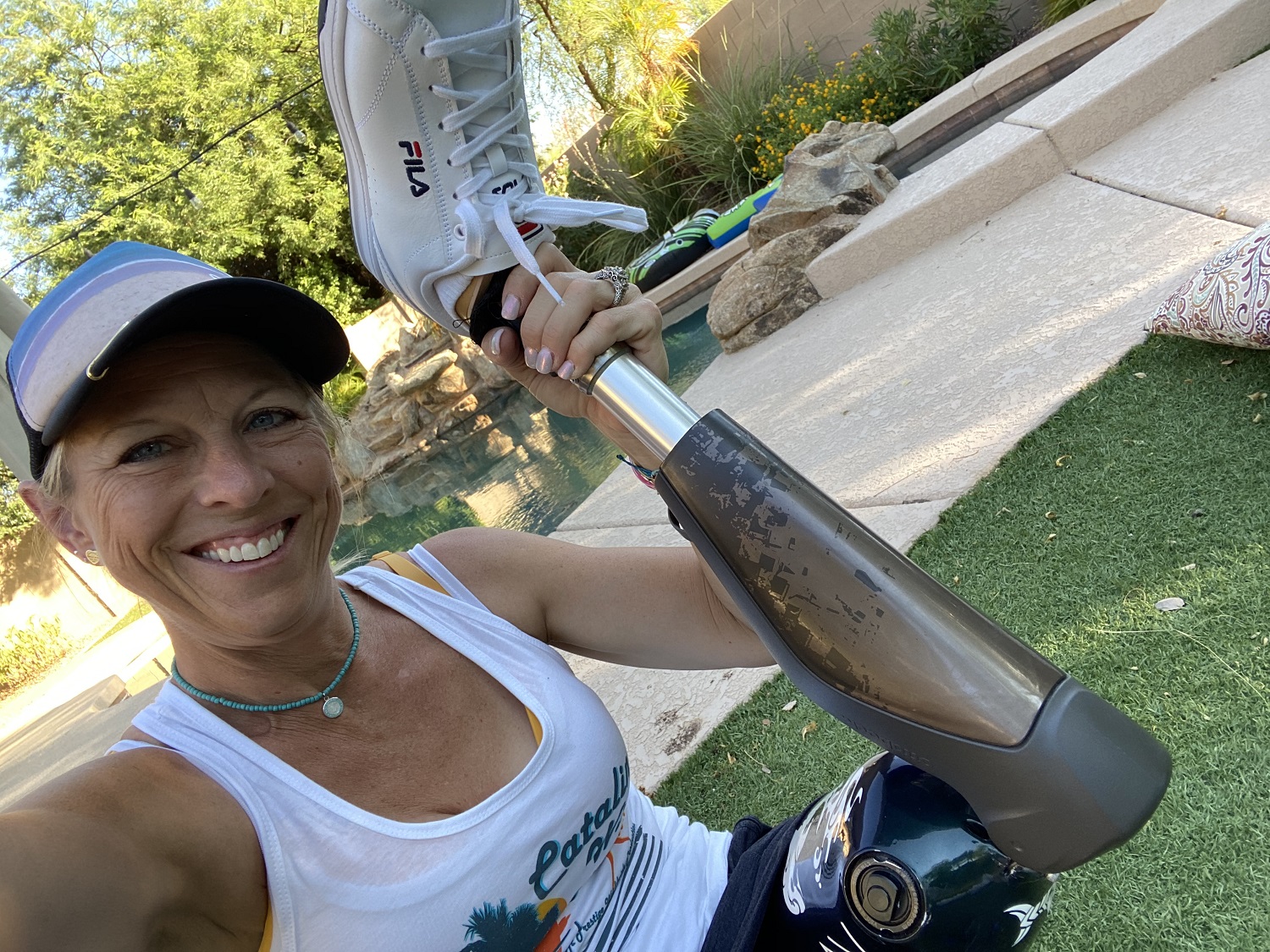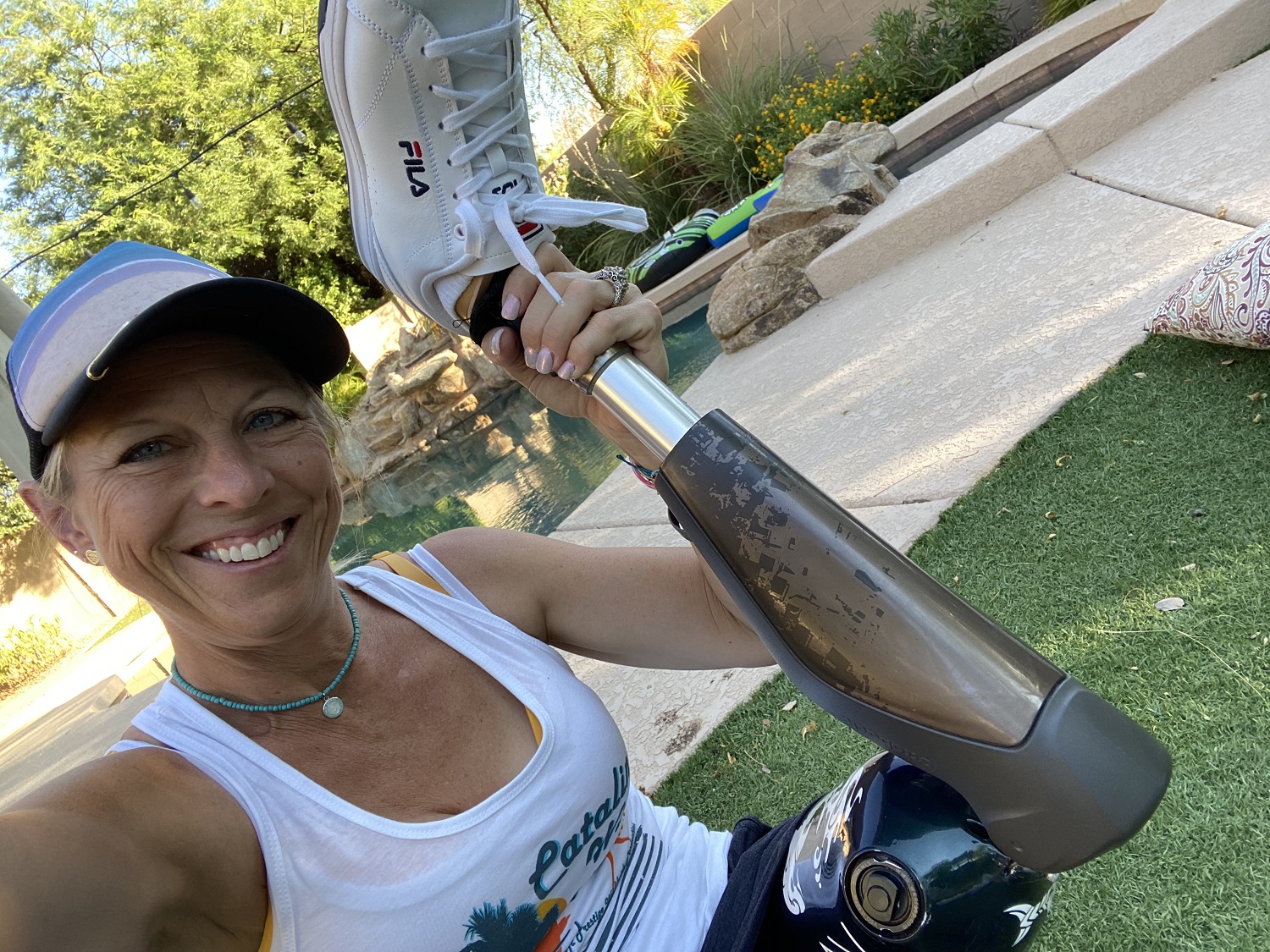 "We cannot change the cards we are dealt, just how we play the game."
-Randy Pausch