Podcast: Play in new window | Download (Duration: 40:18 — 40.4MB)
Subscribe: Apple Podcasts | RSS | More
Set 'Em, and Slam Dunk 'Em!
No better time than the present!  It doesn't need to be a Monday or the first of the month or, even worse, January 1st to set and achieve any goal you set for yourself. Now is the time to get started on the path you want and desire for yourself.  What do you want from your life? Do you want to be healthier? Eat better? Quit smoking/drinking? Get moving and exercise daily?  Are you, like me, trying to walk better and more smoothly in your prosthetic or use your running blade for running?
What are you waiting for? Let's crush your goals….NOW!
You can do anything you set your mind to and setting goals is the most powerful way to get there.  To make sure you're successful in achieving your goals you need to make sure you follow a few steps.
Set a goal you really want to achieve.
Set a DATE to achieve it by.
Tell people who care about you. They will hold you accountable when you struggle to stay the course.
Forgive yourself when you take a step backward, and pick yourself back up and continue forward.
Write it down!!
Celebrate the small victories and be proud of yourself when you achieve your goal.
These simple steps will help you meet your goals and push you forward. When you start achieving your goals you will find that you will feel better about yourself, be physically healthier, and your mental game will be stronger.
A happier and healthier you will be greeting on the other side of your goals.
It's all up to you and what you really want in life.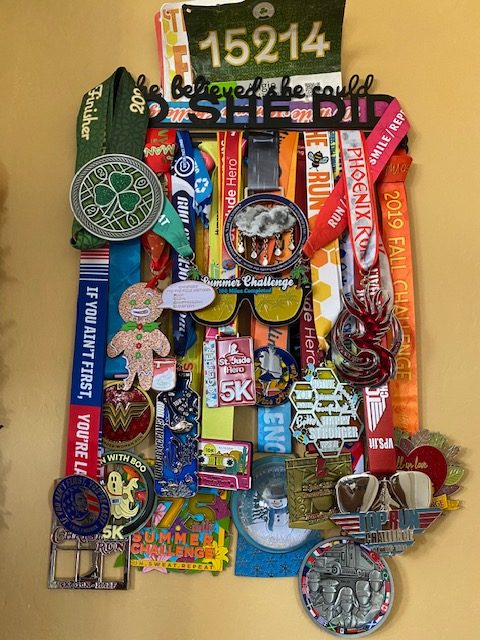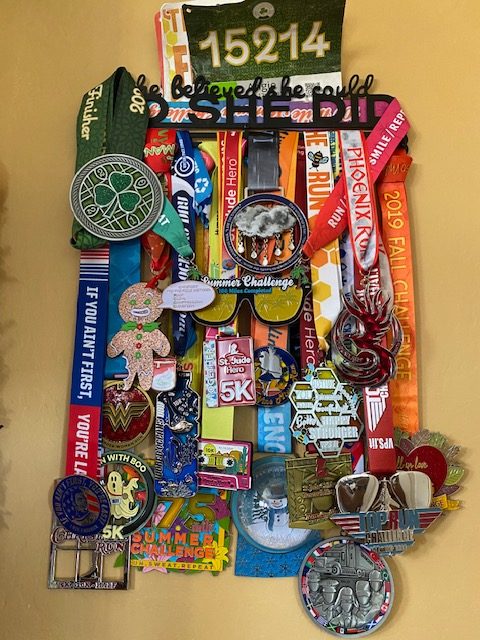 This is how I got motivated to move in my prosthetic from the start.
I use a little extrinsic reward to stay motivated to move.  For me, after many years of knee surgeries before amputation, I couldn't get out and move.  Even a small walk to the mailbox was too painful for me.  I gained weight and felt awful about myself.  Once I got my prosthetic I couldn't wait to be mobile, but it wasn't that easy.  Learning how to manipulate the knee joint and getting use to wearing a 12 lb leg was more than I bargained for but I was determined, after all I decided to amputate so I could be mobile once again.  The only way I knew how to get use to something was to use it, and use it daily, no matter what.  Enter virtual races, before they became a pandemic thing.
I loved that I could do it on my own time, the way I could do it, and at my pace.  I was hooked after receiving my first medal, and as you can see I have gained a few…. and some aren't even in this picture!  All of these I completed in the past 2 years, as an amputee!  If I can do this then so can you. You just need to follow those basic steps above, to help you succeed.


You guessed it!
This week I want you to set a realistic, yet challenging goal for yourself.
What have you been putting off but really want to achieve?
WRITE IT DOWN! Put it somewhere you can see every morning to remind yourself and remember you ARE worth achieving it!
Tell your friend or family member, or join a social group that'll support you, cheer you on, and pick you up when you fall.
Remember, it's a journey. You'll have good days and bad. There will be days you fail, but you must pick yourself back up and press on. Don't quit!
You will thank yourself when you meet your goal, and then you'll be wanting to set a new one.
Talk to me! Tell me what you're planning on doing and how you'll go about achieving it. I'm here and listening.
As always,
Be Healthy,
Be Happy, Be YOU!!!
Much love,
Angie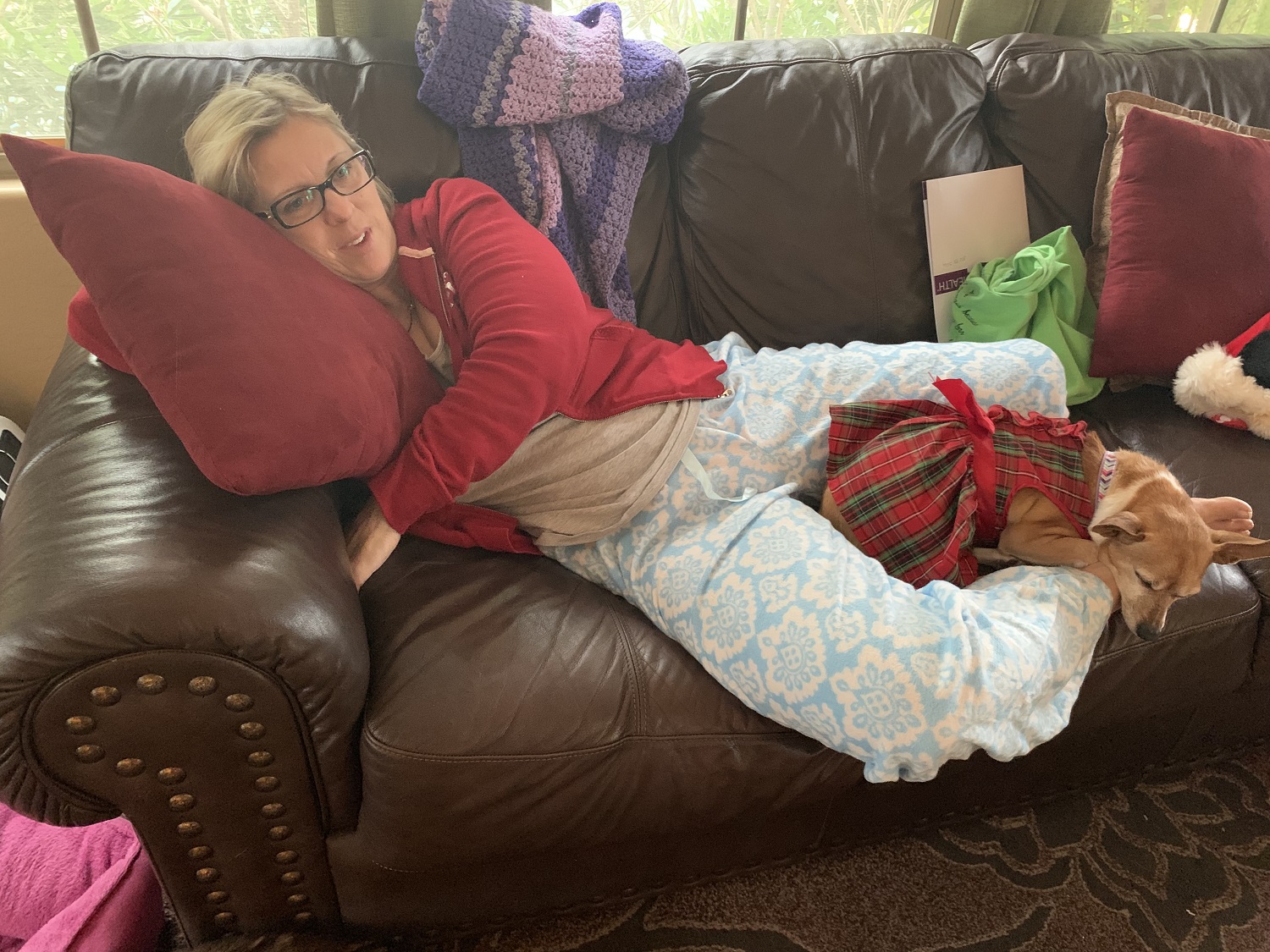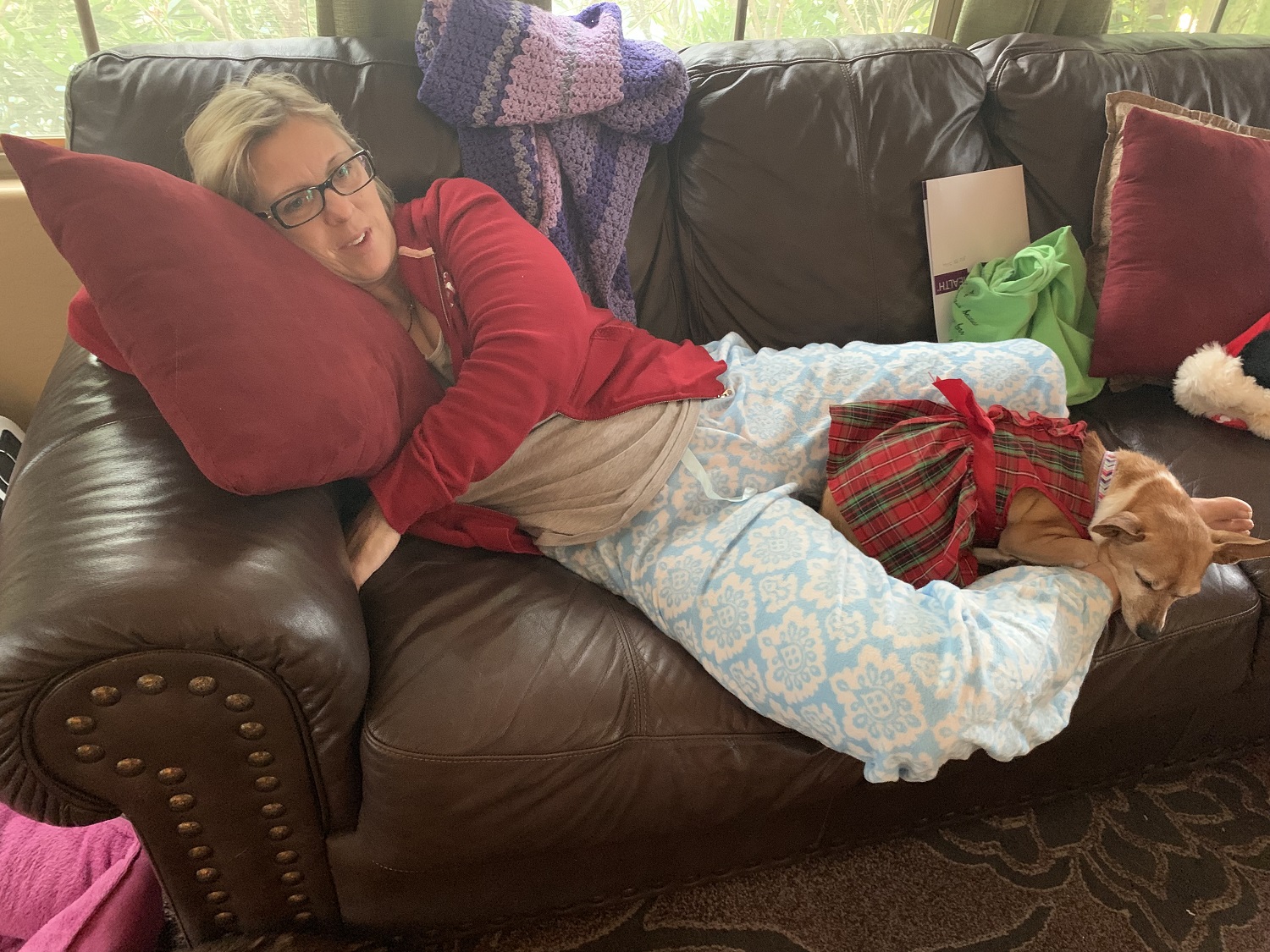 Me, right after amputation. I actually had my surgery right before Christmas.

Me now. Happier, healthier, and moving! Just like I wanted, and everything I'd hoped for!
What are YOUR goals?