What's Your Story with Christy Gardner
What's Your Story with Christy Gardner
Podcast: Play in new window | Download (Duration: 1:02:12 — 46.6MB)
Subscribe: Apple Podcasts | RSS | More
 US Army Veteran, USA Sled Hockey Teammate, Therapy Dog Trainer, Special Olympics Coach, Bilateral Below Knee Amputee
Christy does it all! She is amazing, inspiring, and constantly pushing her limits to see what is possible!
As I wrap up my interviews for Limb Loss/Limb Difference Awareness month (April), I have to say I am renewed, Inspired, and ready to take on the world!
Christy was planning on serving our country for the maximum number of years, until one fateful day she was hit by a local strike in an undisclosed area she was serving as a MP Sergeant. She ended up with a traumatic brain injury (TBI), and spinal cord damage which ultimately led to her double amputation.  She was distraught and had been told that she would never talk or walk again and would never be able to live on her own.
What saved her? How did she go from that "diagnoses" to becoming an alternate to the US Paralympic Track and Field team, a member of the women's US Sled Hockey team, therapy/service dog trainer, and living alone?  Well, you need to listen in to hear her tell her story. Hear how a friend at the VA kept inviting her to come see what sports were available, how a dog named Moxie changed her life forever for the best, and how her unrelenting desire to be better and achieve the impossible, made everything possible once again!
Don't miss this episode and an opportunity to find your own strength in Christy's story.
Thank you, Christy, for spending time with me and blessing us with your story of hardship and triumph, and how you were able to overcome such large obstacles. You are a true warrior and such an inspiration! Best wishes in all you do.
Competition is such a powerful motivator for Christy…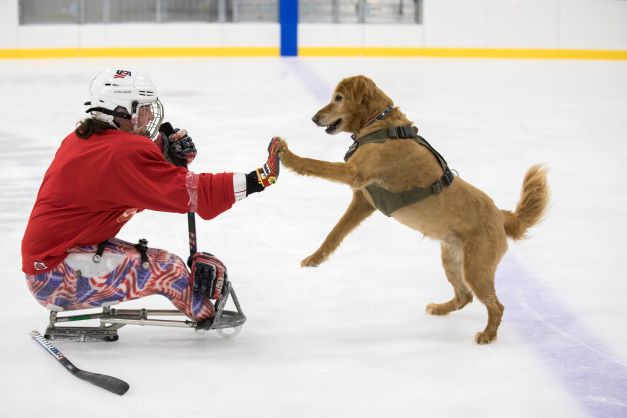 But then again, so was Moxie!🐾
Make sure you watch the YouTube episode of my interview with Christy, as well! You can find my YouTube channel by search BAWarrior360
And as always:
Be Healthy,
Be Happy,
Be YOU!!!
Much love,
Angie