What Motivates You?
What Motivates You?
Podcast: Play in new window | Download (Duration: 41:41 — 42.6MB)
Subscribe: Apple Podcasts | RSS | More
What gets you moving in the morning? What lights a fire under you? What keeps you moving forward when you feel like giving up?
Our mindset and goal setting allows us to find success. They give us the direction and purpose we need to press forward and reach levels of success that might not have been possible otherwise.
I make sure that I have a clear image in my head of what the next day will look like, before I go to bed. I have a to-do list of things I need to do and another list of things I WANT to do. Make sure you mix it up otherwise you could face some burn out and then lose momentum. My dad always said I needed to work hard, then I could play hard; do things I must do and then enjoy the things I want to do.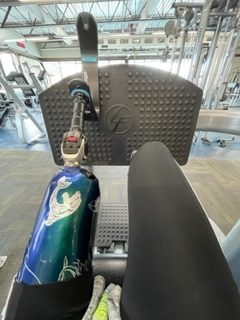 Finding time to go to the gym is my play time, but somedays it's just hard to motivate myself to go.
But I always feel good after I'm done.
You can find success each day if you know where you want to go. Like going on a trip, you plan out your travels so you get to where you want to go and so you know when you'll arrive. Same goes for being motivated.  If you plan for success, you'll most often succeed. If you fail to plan then you will fail.

This week I want you to try this night time ritual;
Either in your mind or on paper think of all that you want and need to accomplish tomorrow. Understand your timeline, meaning when you will need to get up in the morning and when you'll want to go to bed, and then factor in each item you've listed. I have found that I now clump certain items together, for example, if I need to go see my prosthetist that is south 45 minutes, I also try to hit any stores down that way to be time efficient, that also feels like a victory. I also work backwards in thinking about my day. This gives me the opportunity to get up at the right time in the morning so I ultimately have the right amount of time to accomplish everything.
Now set that alarm and get some rest.
What if you wake up in a blah mood, a negative space? Now you build character by pushing forward at what you set out to do the night before. This won't be easy but I promise you it'll feel great when you accomplish what you set out to do, despite the vibe of your day.
Use music to help motivate you and keep you moving forward. And make sure you check out Fearless Motivation on Apple Music!
I wish you a week filled with smashed goals and positive vibes!
Stay motivated, my friends!
And as always,
Be Healthy,
Be Happy,
Be YOU!!!
much love,
Angie