Facing Fears, Overcoming Obstacles
Facing Fears, Overcoming Obstacles
Podcast: Play in new window | Download (Duration: 1:11:08 — 54.4MB)
Subscribe: Apple Podcasts | RSS | More
What's Holding You Back?What if I told you that you can overcome your fears. What if I told you that you could rise above your circumstances and that they do NOT define you?
You need to hear Mike's story, but not just what happened to him, listen to how he speaks about it. Listen to his message of the hope, and how he looked toward his future and NOT his past. Hear his heart and about the faith he had that this was all part of a bigger plan. We could all learn a thing or two from his approach to living a full and rewarding life and how his positivity and mindset might be just what you need to be inspired to make the most of your circumstances.
I met Mike while we were in Kauai on vacation a couple of years ago. I didn't know his story before meeting him but was intrigued to hear that he lost his leg in a shark attack and went right back to surfing.  Talk about facing fears! Wow! I find his story inspiring, not just because he went back to surfing but because he took a life changing event and made the most of it. To become a shark advocate and to be face to face with them so he could photograph them and show the world what beauty lies within these ancient creatures is, to me, the ultimate sign of courage and strength.
What I realized after talking with Mike, in depth, is that we ALL have that capability inside of us. We can all make the choice to see the positive in any situation. We can get knocked down a hundred times but rise 101 times. We control the power within ourselves to be great and live a full and meaningful life, no matter what hand we are dealt.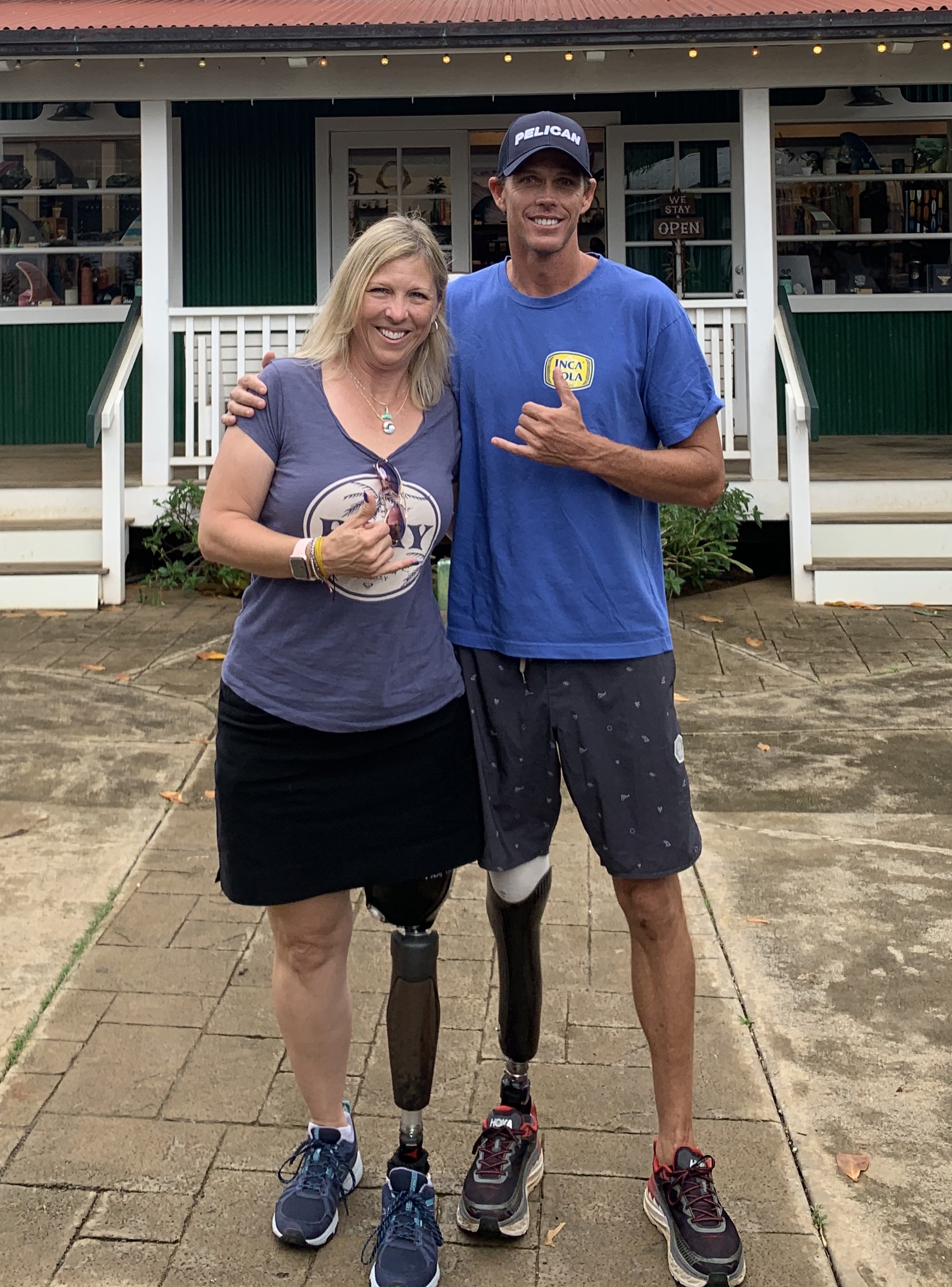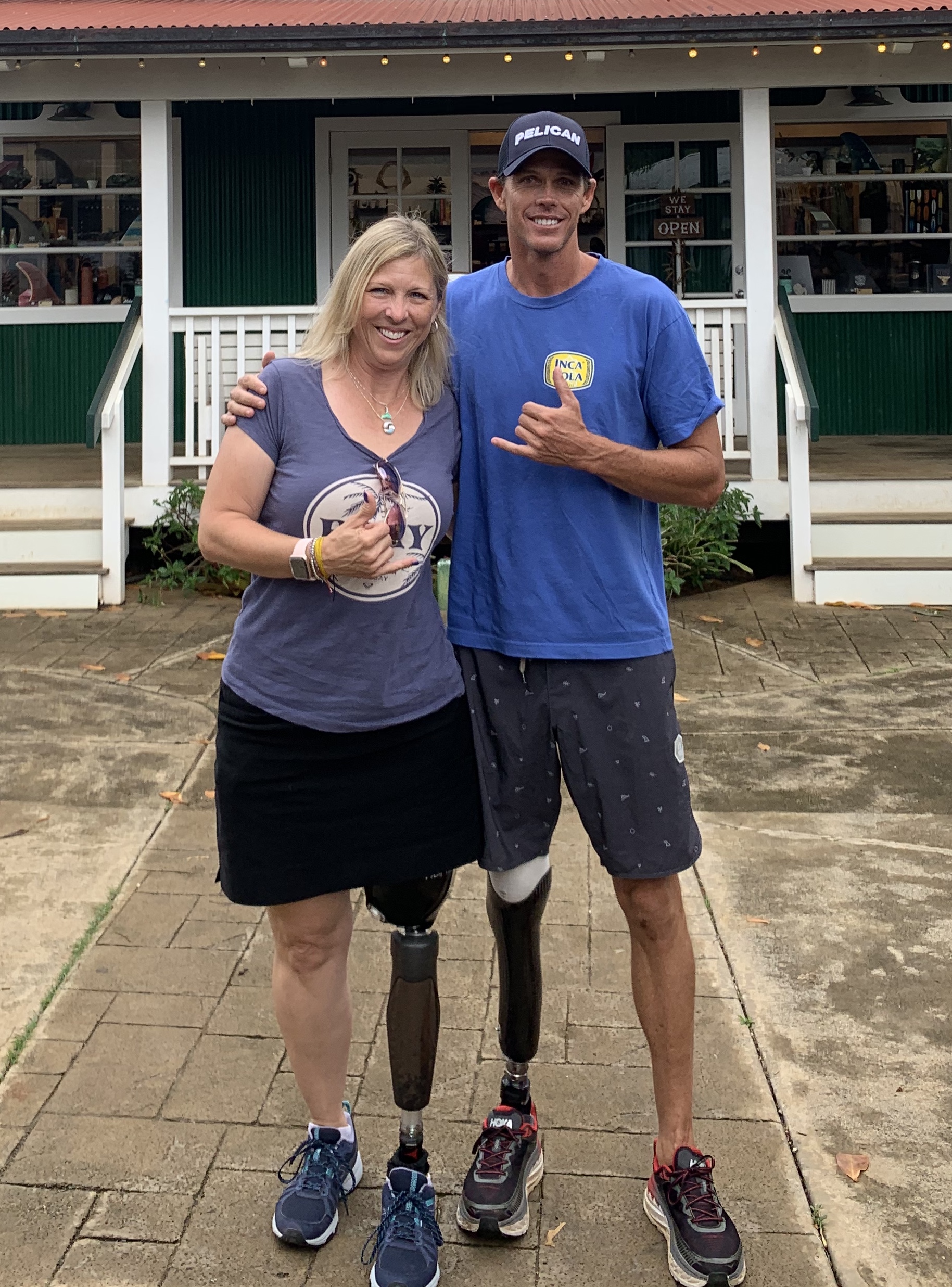 Mike and I meeting for the first time in Kilauea, Kauai

I really hope you hear the message Mike presents in our interview, and understand that it's possible to find happiness in tragedy, hope when you feel hopeless, and success in overcoming fear. You can do this! You are strong enough and you have a story to share with others. Through your fight and your journey, you, too, can and will inspire.
Call to Action:
Decide if you are playing the victim and throwing a pity party because life didn't deal you the hand you think you deserve or are you looking at that circumstances as a way to rise to the challenge and going to make the best of it.
Then decide if you want to make a change and start living your life.
If you are choosing to take back control of your life, what do you need to make this happen?
Do you need to change your thinking? Then start by seeing the positive- I try to remember that I am lucky to be alive and healthy and can now do the things I couldn't do just 2 years ago. I also realize that there are people in worse situations than I am and that I should have a a heart of gratitude.
Do you need help? Reach out to a family member, a friend, a close co-worker or find a support group. Sometimes it's just plain tough to go it alone and a healthy, open relationship is just what you need. Be honest with yourself and your family about how you're feeling. Sometimes just talking through your feelings will release your anxiety and allow you to grow.
Once you figure out what's holding you back you can begin to move forward and make the necessary changes to improve your outlook on your life, and begin to have a positive, healthy mindset that will translate to a more profitable lifestyle for you and those around you.
This week I want you to work on your thinking and how you perceive your life. Be positive, upbeat, lose the negativity and smile. The simple act of smiling increases the release of endorphins and serotonin- a pain reliever and antidepressant, respectively. Try it!
I want to see you soar! I want to see you live a healthy, full and wonderful life. It's there for the making.
Next week join me as I speak with Dr. Judd Cummings, the Orthopedic surgeon who performed my amputation and helped me get my life back.
Until next time:
Be Healthy,
Be Happy,
Be YOU!