I Am Who You Say I Am
I Am Who You Say I Am
Podcast: Play in new window | Download (Duration: 51:36 — 53.1MB)
Subscribe: Apple Podcasts | RSS | More
How My Faith Saved Me and Made Me Who I Am Today…..
HIS!
Faith: the assurance of what is hoped for, with the conviction of what is unseen.
This podcast goes deep as I share the other half of my story, the side of my story that I have only just recently shared with people outside my circle.  This story that gives you a glimpse into my Faith and belief system that has been in place all my life but really grounded me the most the past several years…. especially the months right before my amputation.
I don't want to go into much detail here as I hope you listen because the raw emotion that spilled out during my recording I don't share lightly, and am sort of embarrassed by as I don't lose it like that when I record my episodes.
This side of my journey is special and a sacred part of my journey that I have decided was time to tell, in hopes it may help someone else.  Please listen, please share, please subscribe to my emails so you don't miss an episode.
This past week I was blessed to go speak to a women's Bible study group and share my faith journey. This stirred in me that people want and need to hear these type of stories, if only to build hope in this world we are living in.
Thank you to my good friend, Laurie Porter, for inviting me to speak, and to the ladies of the Fountain Hills Presbyterian Church, here in Arizona, for allowing me the time to speak and share my story with you. I am truly blessed to have met each of you and call you friends.

Grateful to these ladies for opening up their study group to me so I could share my story
and to my Dad who is in visiting from Illinois. What a trooper being surrounded by all these women!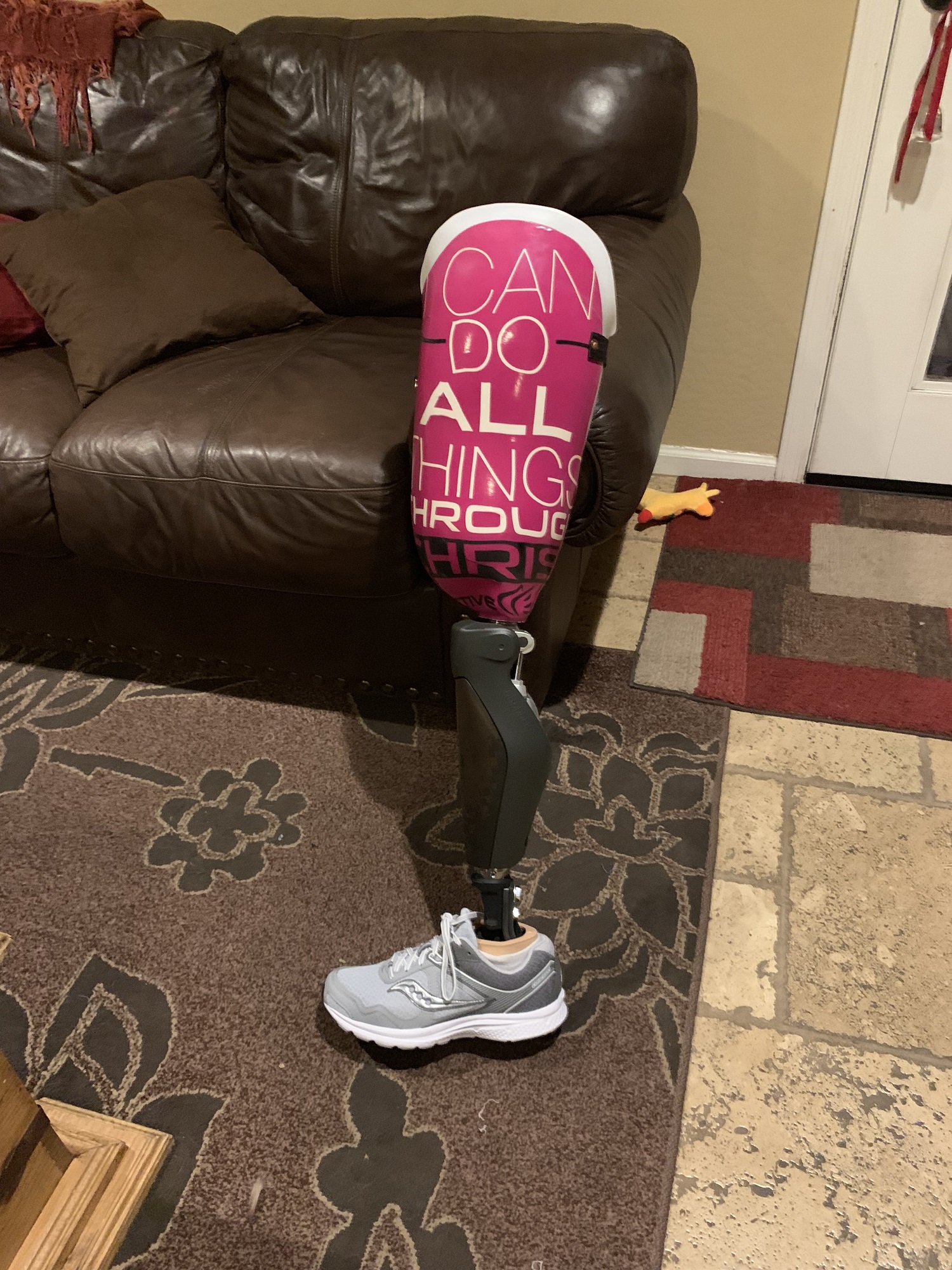 My first socket-I chose a saying that helped me get through those hard firsts of prosthetic wearing.


Today's is simple;
If you believe then really BELIEVE. God has got you no matter the circumstance, no matter the fight or battle you are in. Let go and stop trying to control the situation. Listen, be quiet, see what He is trying to say to you.
If you aren't a believer then ask questions. If you are intrigued by my story and the words I spoke then please reach out to me. I'd love to share more with you and answer your questions. You are never too late to find this unique relationship I spoke of.
And as Always:
Be Healthy,
Be Happy,
Be YOU!!
Much love,
Angie