Enjoy the Journey
Enjoy the Journey
Podcast: Play in new window | Download (Duration: 24:17 — 21.5MB)
Subscribe: Apple Podcasts | RSS | More
Traveling Home Once Again

Me and Dad traveling back to Chicago after his stay with us.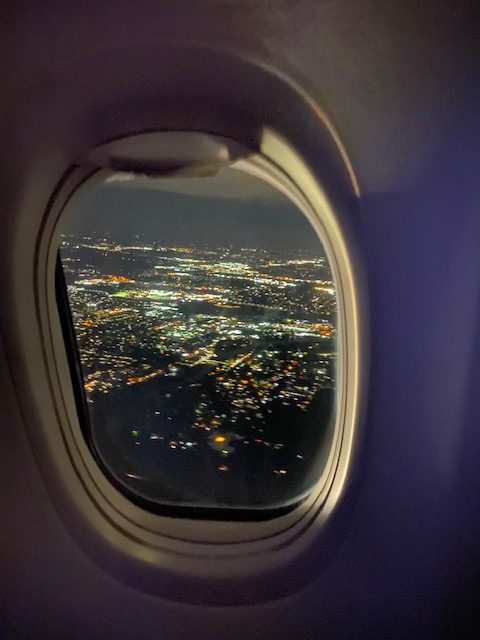 Coming in for a landing, Chitown.
City lights, oh how I've missed you!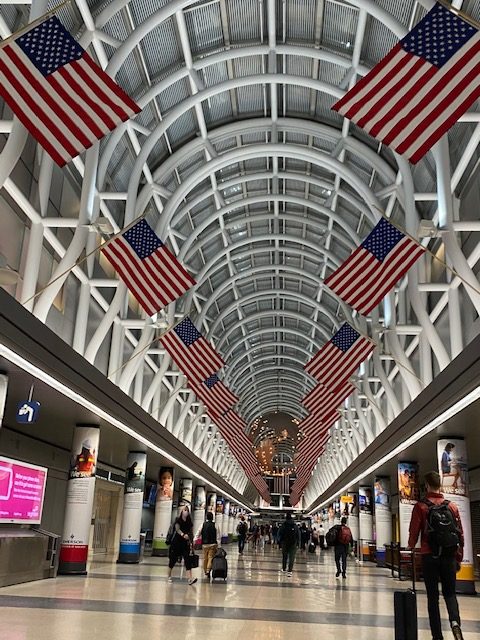 O'Hare Airport doing it up right! Love this airport.
God Bless America and the Veterans who fought for our freedom.
I am HOME!  Chicago will always be my home, no matter how long we may be apart. Every year my family travels back to Chicago, where most of our family lives, for visits; one in the summertime, and one near Christmas. The pandemic made other plans for us this past year. We were very overdue for this trip.
Since I haven't traveled much for almost 2 years- no flights, at least, I was a little rusty on packing. I hate packing for trips as it is, but when you are an amputee or have other medical issues, then packing becomes a bit more time consuming and anxiety building. There are so many things to remember to bring, then having to make sure it all fits. Whew! What a task.
This podcast is very unique as it is the first one I have done away from my home setup. This one may sound a bit different because I used different equipment and actually recorded outside on the deck at my parent's house-you may hear cars and wind in the background. But keeping with my "keeping it real" vibe, this shouldn't surprise you, and actually I am pretty impressed with the quality of this episode, all things considered.
I hope you can feel the love I put into this one, as I was recording in a place my Mom and I use to sit and chat when I'd come visit. I recorded on the deck that holds many memories of BBQ's with my whole family over, moments where my mom was standing and smiling down at me while I played with my boys in the grass below (grass was always fun to play in since we have none in Arizona!), watching her watch her hummingbirds flit in and out of the deck's feeders, and so many more. I have laughed, listened, cried, and hugged the people I love on this very deck, it only seems fitting to have an episode done here, too, to add to the memories.
Being here in Chicago has been such a blessing, even through the pains I have been feeling in my residual limb. As I discuss in this episode, though, we need to see past these painful moments and live for the positive things going on around us, or we will miss the good in life. What I feel today, may be gone tomorrow and I don't want to miss any more moments with my family, so I resolve to buck up and push through, knowing less painful moments are on the horizon. I pray you do the same. We are all on a journey, and this journey will be filled with endless ups and downs. We need to take the good with the bad and know that with every hard episode we go through, a better, more joyful one will be right behind it.
Don't fret. Don't think negative thoughts. Chin up, Warrior, life will get better.


Find the positive when it seems like it's not there. Surround yourself with positive people and keep your chin up in the hard moments, realizing that this will pass and it's just one moment in your life.  Your attitude will dictate your outcomes, so stay positive, happy, upbeat. Even when you're hurting, find the strength to smile. You've got this, Warrior, you've got this!!!
As always:
Be Healthy,
Be Happy,
Be YOU!!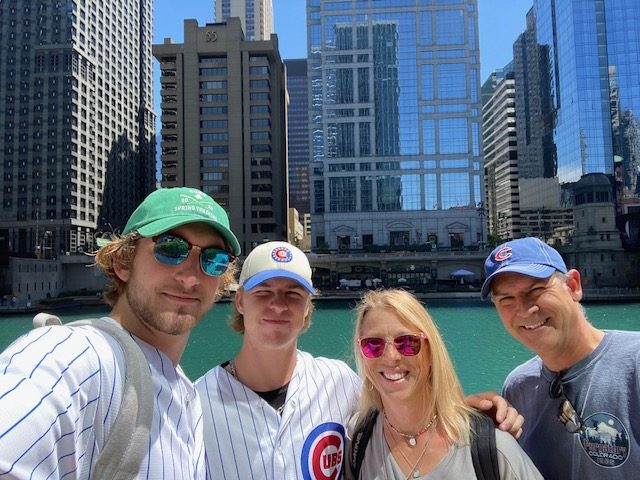 Chitown 2021- We Are BACK!!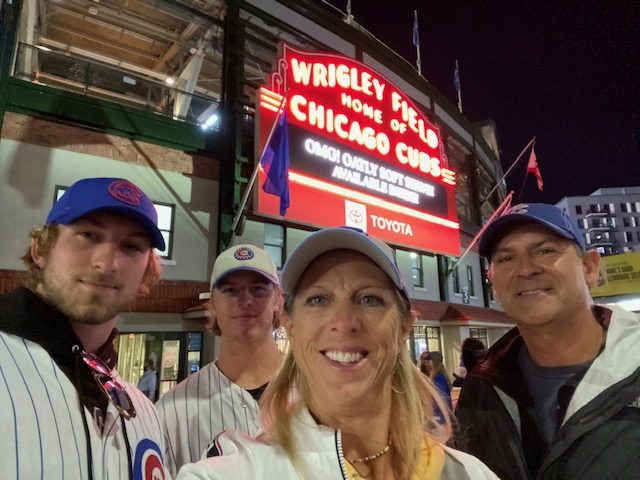 Cubs win! Cubs win! Cubs win!!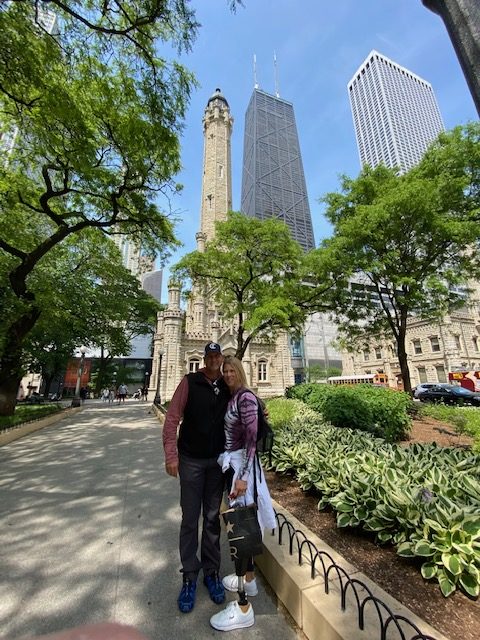 Water Tower- Michigan Avenue
Much love,
Angie