Bouncing Back with TLC
Bouncing Back with TLC
Podcast: Play in new window | Download (Duration: 47:50 — 36.6MB)
Subscribe: Apple Podcasts | RSS | More
Prosthetics, Trauma, and Giving Back
Meet my prosthetists and friends, Randy West and David Banks (left and right in blue). We met and began discussing my future as an amputee months before my surgery. During that time, I told them of my past activity levels, my current life as a wife and homeschool mom, and my dreams and aspirations for my future. They used that information to fit me and help me realize my dreams. They listened to me when I had questions and struggles, they made changes to my fit when I needed it and directed me to great medical doctors when I needed more than a great fitting socket.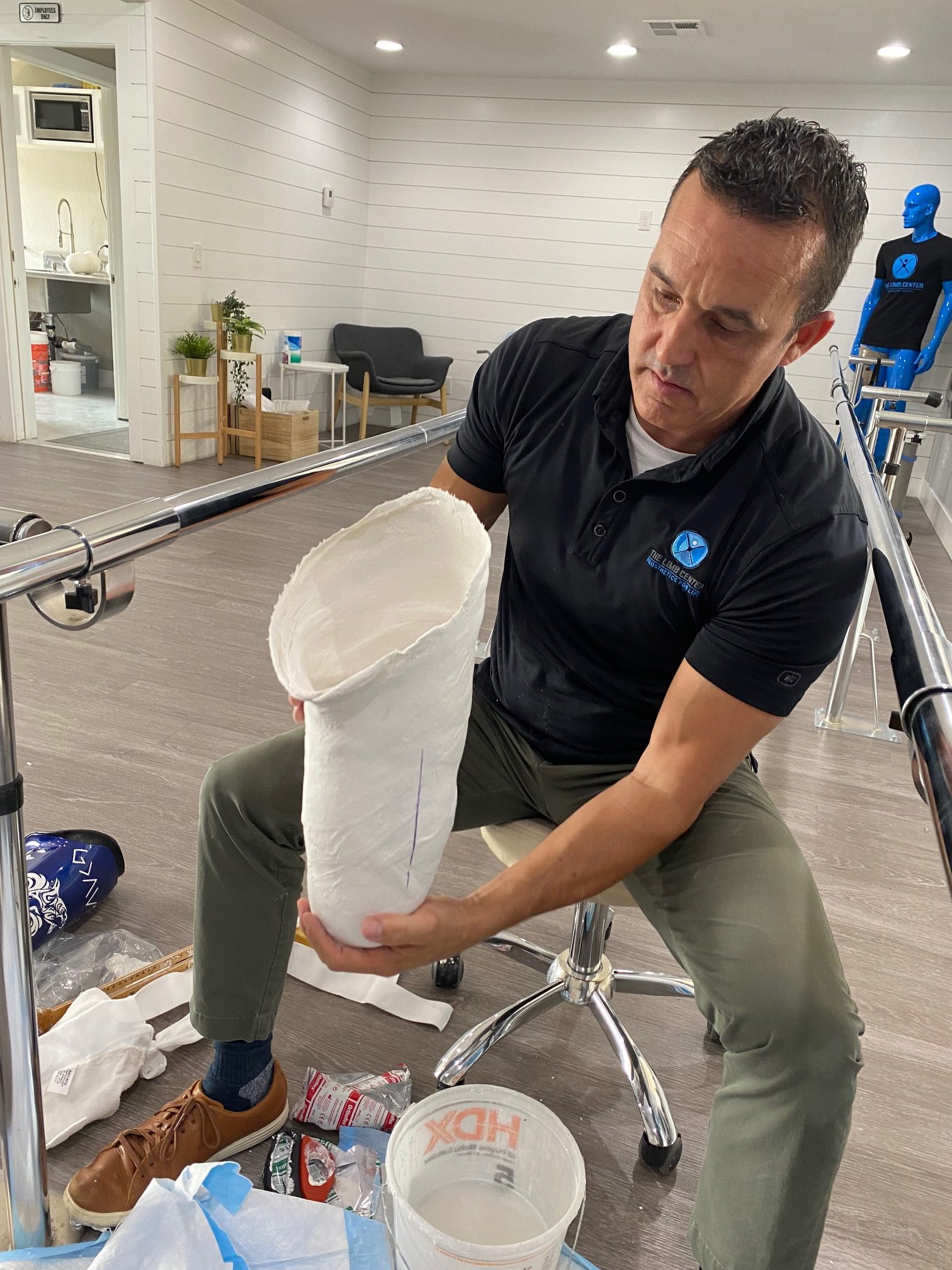 Molding my socket

Another one done!

Two sets of eyes are better than one.

My team
They have done so much for me and given with their hearts.
David, as you can see in the 1st picture above, is an above knee amputee himself, and like all amputees, when it happened he had to adjust and change direction in his life, which brought he and Randy together. David tells his story in this podcast, and I will tell you that his story makes a full circle, which is kind of amazing!
Now after 20+ years of friendship they are beginning their road of a non-profit called, Limbs For Humanity. They go to Mexico every month and see as many amputees as possible in a weekend, bringing parts and prosthetics to these people, people who never even dared to dream about one day walking again. They give of themselves, and their time, heart, money, and talents for the sake of bringing mobility to people who never thought that was possible….and it has been life-changing (and not just for the clients, for David and Randy, too).
Giving back is the ultimate gift
This story of David's tragic amputation as a young man, and now as a company who gives of themselves for a greater cause is what Bouncing Back is all about!
They have taken setbacks and used them as set ups for the greater good.
Come along today and be inspired by David's story, find hope that a prosthetist can truly care about your well-being (because they do exist!), and find purpose in your life, because when one window shuts you must look for another window to open, and what's on the other side could be life altering!

I haven't done any CTA this month as we are talking with people about their journeys and how they bounced back to get where they are, but I feel this episode is a great one to put one out there.
This week, go follow my friend's non-profit @limbsforhumanity on Instagram
And give!
If you have spare prosthetic parts around your house, touch base with me or them and we can donate to people who need them. Donating money is another way to help a non-profit get off the ground running. Money helps them get the parts they are lacking, among other things to help these guys get to Mexico to give new life to so many people.
Randy, David, I appreciate you!
Thank you for being exactly what I needed when I wasn't even sure what I needed and allowing me to fly!!
Please help them and donate today! God bless!
And as always,
Be Healthy,
Be Happy,
Be YOU!!!
Much love,
Angie